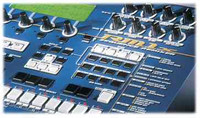 4D Records has announced the release of a free sample pack featuring sounds from the Yamaha Rm1x.
Today 4D Records releases an exclusive Yamaha Rm1x Sequencer Retro Sample package, filled with 923 warm, fat, very good sounding drumkit samples, from 14 different drumkits and music styles. Each sample is recorded in glas clear 16bit WAV CD quality.

I (4D) recorded all samples from the rm1x i own and put them together in this classic rm1x retro release — 89 MB compressed and 215 MB decompressed. This rm1x samples collection you should check out if you need good samples for your productions.
The Yamaha Rm1x Sequencer Retro Sample Pack is available as a free download.