Plugin Boutique has launched an exclusive sale on the Quadrant hybrid modular plugin with over 1,500 modular synth samples built-in.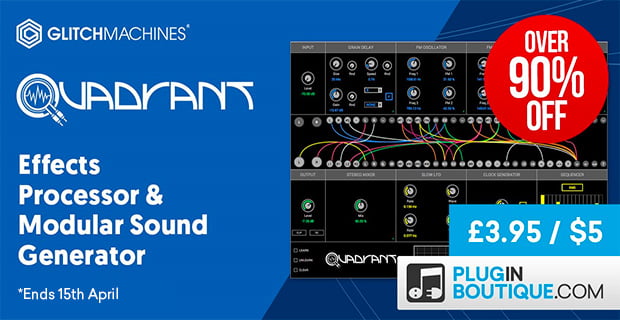 Quadrant's open-ended graphical patching system and diverse set of modules give you access to a highly customizable processing environment capable of a broad range of effects. Quadrant's intuitive workflow and vast sonic potential will inspire you to push the envelope, while its flexible architecture invites you to try imaginative new routing scenarios.

160 factory patches were specially designed to showcase Quadrant's capabilities both as an effects processor and sound generator. To take things even further, put Quadrant in a processing chain along with any of our other software tools. Generate vivid electronic tones or process your drums, synths, sound effects and hardware to explore endless possibilities.
Quadrant features
Fully Modular Hybrid Plugin.
Signal Processor & Generator.
36 Flexible Modules.
Open-Ended Signal Flow.
Graphical Patching System.
Real-time Signal Visualizers.
160 Factory Patches.
1500+ Modular Synth Samples.
Quadrant is available for only £3.95 GBP / $5 USD until Arpil 16th, 2019.
More information: Glitchmachines