8Dio has announced its Black November. Biggest Sale. Ever, offering everyone the chance to "discover the biggest deep-sampled instrument collection in existence".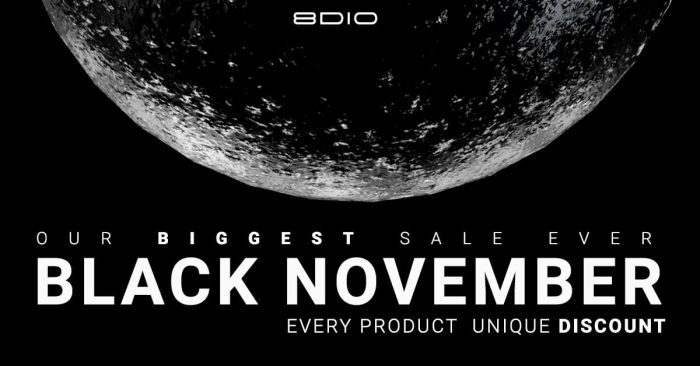 8Dio's product range features a diverse collection of orchestral instruments from the 240-Majestica orchestra to the highly detailed Century Series. From the massive 200-piece Lacrimosa Choir to the two completely realistic Silka and Insolidus Choirs. The Intimate String, Brass and Woodwind Series offers a more modern and studio centric take on deep-sampled orchestral instruments.

The industry standard pro-grade cinematic scoring tools. 11 different types of pianos. Ensembles of 66 Cellos, 66 Trombones and many others. A remarkably deep selection of custom instruments you may have never heard before. We got Piano ensembles. Harp ensembles and everything in between. Or perhaps you just a deep-sampled … kitty cat! We got anything you need baby!
All products are discounted until December 1st, 2019.
More information: 8Dio Productions