8Dio Productions has released the Century Orchestral Brass Bundle, the definitive state-of-the-art collection of ultra-realistic brass instruments by Colin O'Malley and Troels Folmann.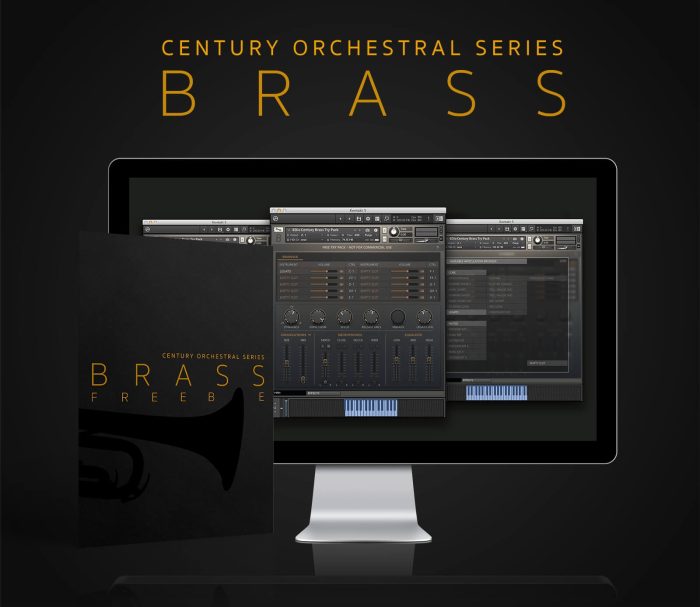 The bundle includes the Century Ensemble Brass and Century Solo Brass collections. With Century Orchestral Brass, 8Dio aims to offer a truly emotional and realistic collection of incredibly deep-sampled brass instruments that can be anything you want it to be.
All elegant creations in each their way. From the soaring bite of the incredibly tight 2-Piece Trumpet Ensemble to the defined and fluent sound of our Dual Horns. From the powerful, fluent notes of 3 Trombones to the noble sound of a 4-Trumpet Ensemble. The 6 horns don't need any further introduction – other than they are the best we have ever played. The 12 Horns augment the experience with a large, lyrical soundscape. The Solo Trumpet creating ornaments on top of it all. Perhaps even the Solo Flugel Horn with all its rich lushness. Maybe even a twilight sunset with the French Horn? Maybe a powerful, yet delicate solo with our Cimbasso or Tuba. The tone and character of Century is uncompromised and unparalleled.

The shell of Century Ensemble Brass is our custom-designed user-interface. Offering virtually every option to express yourself. All simple. All one page.

Inside the shell you will find the secret to Century Ensemble Brass. An exquisite collection of luxury virtual instruments – specifically designed for high-end, emotional realism. The Century Brass Sessions took place over 2 years, selectively hand-picked players from all across Europe.

Over 700 hours of session/recording time. Only lord knows how many sessions – and then retakes – and even further retakes.

Century Orchestral Brass was derived from several new recording and sampling techniques. All the legatos are not only layered in dynamics, but we created new programs that offer you a completely smooth transition. So when you need to take your Ensemble Horn from Piano to Fortissimo – just do it – and it works effortlessly. We also recorded a wealth of different short notes. There is so much more than the typical staccatos and marcatos. We recorded unique fanfare oriented short notes – with more bite and tension. We recorded traditional articulations – at multiple lengths. More arcs then you could dream of. But, of course all arcs are now dynamically layered and recorded at multiple lengths. So, in essence, you have control over Dynamics (CC1), Expression (CC11) and Speed (CC16).
Century Orchestral Brass Bundle features
194.7 GB of samples (94.4 GB compressed).
Ensemble Brass contains 6 ensemble types: 2 Trumpets, 2 Horns, 3 Trombones, 4 Trumpets, 6 Horns and 12 Horns.
Solo Brass contains 7 individual brass instruments: Trumpet, French Horn, Trombone, Flugel Horn, Cimbasso, Tuba and Bass Trombone.
4 Microphones (Mixed, Close, Decca, Wide/Far).
Complete Room Control from dry to wet.
One click access to all articulations via custom browser.
Fluent controls over Dynamics (MW), Expression and Speed.
The Century Orchestral Brass Bundle is available for $598 USD (save 30% over individual volumes). Requires Kontakt 5.6 or later, full version.
The Ensemble and Solo libraries are also sold separately for $398 USD each, and a free Try Pack is available with a full range solo flugel horn legato and dual french horn legato, with 1 mixed microphone position.
More information: 8Dio Productions / Century Orchestral Brass Bundle