8Dio Productions has launched a beta pre-order for its Century Solo Brass state-of-the-art collection of deep sampled, ultra-realistic instruments for Native Instruments Kontakt.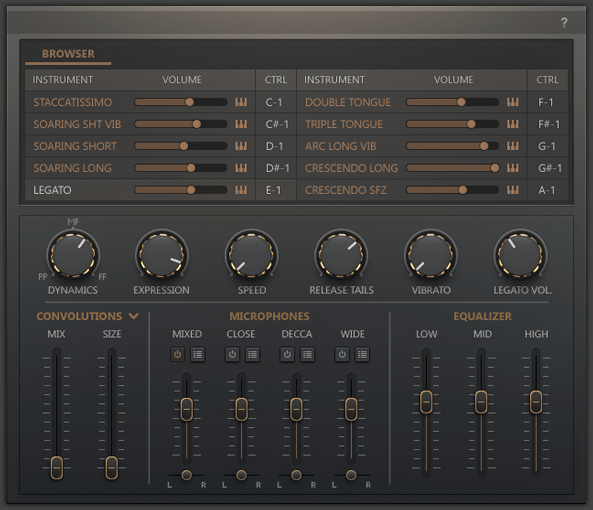 Effortless and playable beyond words. 8Dio Century Orchestral Series is produced by long-time Academy Award, Emmy Nominated, T.E.C and G.A.N.G Award winning producers, Colin O'Malley and Troels Folmann

This luxury collection of Solo Brass contains seven, unique instruments. Solo French Horn, Solo Trumpet, Solo Flugel Horn, Solo Trombone, Bass Trombone, Cimbasso and Tuba.

All elegant creations in each their way. From the soaring bite of the trumpet to the loneliness of the horn. The gorgeous breath of the Flugel Horn to the gliding, fluent notes of the Trombone. It's father. The Bass Trombone. Marks itself with raw, deep, character. The Cimbasso to shine brightly where the Tuba cannot. The Tuba to shine on the warm, bottom surface.

The shell of Century Solo Brass is our custom-designed user-interface. Virtually offering every option to express yourself. All simple. One page.

Inside the shell you find the secret to Century Solo Brass. A collection of virtual instruments – specifically designed for true, emotional realism. The Century Brass Sessions took place over 2 years, selectively hand-picked players from across Europe. 350 hours of session time. Only lord knows how many sessions – and retake of sessions.

Century Orchestral Brass was derived from several new recording and sampling techniques. All the legatos are not only layered in dynamics, but we created new programs that offers you a completely bump-free ride. So when you need to take your Solo Horn from Piano to Fortissimo – just do it – and it works. We recorded a wealth of different short notes. There is so much more than staccatos and marcatos. We recorded both unique fanfare oriented short notes – with more bite and tension. We recorded traditional articulations – at multiple lengths. More arcs then you could dream of. But all arcs are now dynamically layered and recorded at multiple lengths. So, in essence, you have control over legato dynamics (CC1), expression (CC11) and legato speed (CC16)

Century Orchestral Brass is not a sample library to us. It is a truly emotional and realistic collection of incredibly deep-sampled brass instruments. It can be anything you want it. The softest skin you ever touched. The thunderous end of a world. It can be subtle. Forte. But always a lyrical forte.

Century Orchestral Solo Brass contains 4 microphone arrays: "Mixed, Close, Decca and Wide". Solo Brass contains 121GB of opulent samples (60GB compressed).
Century Solo Brass features
Includes Solo Horn, Solo Trumpet, Solo Flugel Horn, Solo Trombone, Solo Bass Trombone, Solo Cimbasso and Solo Tuba.
121 GB of samples (60 GB compressed).
4 Microphones (Mixed, Close, Decca, Wide/Far).
One-Click Access to all articulations via custom browser.
Fluent controls over Dynamics (MW), Expression and Speed.
Full Retail version of Kontakt 5.5 or later required.
The pre-order is available for $499 USD. You'll receive the beta version after purchase.
More information: 8Dio Productions