8Dio Productions has announced the release of 66-Basses, its first title in the new Legion Series of instruments dedicated to solving specific needs in epic cinematic music.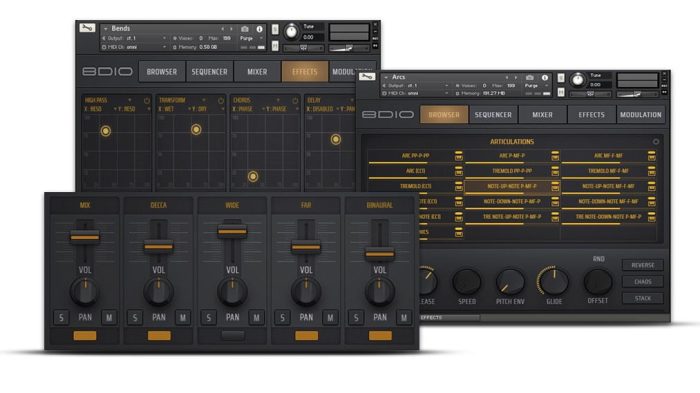 66-Basses features the sounds of 66 Philharmonic bass players from 9 European countries.
66-Basses is all about professional cinematic bass. We gathered a 66-piece symphonic double bass ensemble in our favorite modern recording hall, Zlin. The ensemble was created by uniting professional bass players from 9 different countries in Europe. A life-time opportunity and all the players gave it their absolute best in these sessions. It shows.

66-Basses contains all common articulations (Sustains Types, Short Notes, Arcs, Effects, Note-Bends etc) and a large set of new articulations (Dynamic Waves, Tuning Clusters, BPM-based Ostinatos, Bridge FX etc).

We also spend the better of a month on 50 uniquely crafted analog synth ensembles. The library features 10 different microphones, including a new Binural microphone that gives you a sonic VR experience of the sessions. 4 Hall-Based microphones (Mixed, Decca, Far and Wide) and 5 intimate close Spot microphones for more detailed sound.
66-Basses features
Professional Cinematic Basses.
66-Person Symphonic Bass Ensemble.
14,299 Samples. 28GB HDD (compressed to 14GB).
66 Basses Sustain Types, Short Notes and Dynamic Arcs.
66 Basses Effects, Bending and Drop Notes.
50 Analog Cinematic Ensemble Synths.
4 Specially Built SFX Pads + Chaos FX 3.4.
1 Binural Microphone. 4 Hall Microphones (Mix, Decca, Wide, Far).
5 Close Spot Microphones.
All patches come with DFD, TM and TMPRO options.
Full Retail version of Kontakt 5.6 or later required.
66-Basses is available for the intro price of $198 USD until January 30th, 2018 (regular $248 USD).
More information: 8Dio Productions 66-Basses