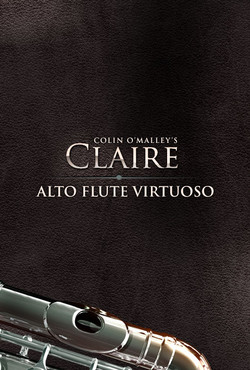 8Dio has announced the release of Alto-Flute Virtuoso, a virtual flute instrument library that is part of the Claire Virtuoso Woodwind series for Kontakt by Colin O'Malley.
Our Alto Flute Virtuoso is the most expressive, playable and lifelike Alto-Flute ever sampled. The Alto-Flute Virtuoso was recorded in a symphonic hall and contains three microphone positions (Close, Decca, Wide). The core of the instrument is its highly advanced legato system, which contains both lyrical and strong legato. The legato system allows you to play legato with passionate arcs and sustains.

We recorded arcs with both light, medium and strong vibrato, so you can freely sculpt your performance from the subtle to vibrant. In addition we also added trills, runs, staccattissimo, marcato and even non-tonal effects like breaths, valve sounds and natural click noises etc.
Claire Alto-Flute Virtuoso features
Deep-Sampled Virtuoso Alto-Flute / ultra hi-def (96Khz).
Recorded in symphonic hall w/ 3 mics (Close, Decca, Wide).
Lyrical and Strong Legato Patches.
Arcs, Marcato, Runs & Sustains.
Staccatissimo and Trills.
The library is available for the introductory price of $99 USD until June 1st, 2014 (regular $139 USD).
More information: 8Dio / Claire Alto-Flute Virtuoso