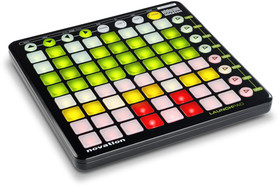 Ableton and Novation have announced the Launchpad, a dedicated controller for Ableton Live, co-developed by Novation and Ableton.
Perfect for DJing, performing live or working in the studio, Launchpad features a multi-color, 64-button grid, control modes for the Session View and Live's mixer, two fully-programmable User Modes and dedicated scene-launch/function buttons. Despite the big grid, Launchpad is neat, compact and portable: 239 x 239 mm with a slim 24 mm profile and weighing only 717 g.
Launchpad features
Big grid — Launchpad features a multi-color, 64-button grid for launching clips plus eight dedicated scene-launch buttons. The buttons are lit by LEDs displaying clip status so you can see at a glance what's loaded (orange), what's playing (green), and what's being recorded (red).
Compact, portable — Despite the big grid, Launchpad is compact and portable: it'll fit in your bag for gigs and won't hog your desk space in the studio. It's slim, sturdy, weighs less than a hardback book and it's USB powered, so there's no power adapter to drag around.
4 modes for flexibility — It's not just about launching clips: as well as the Session Mode, Launchpad offers Mixer Mode—a unique way to control Ableton Live's mixer—and two fully-customizable User Modes.
Innovative mixer control — In Mixer Mode, the rows and columns of the grid become virtual faders, sliders and knobs controlling track volume, pan, sends, mute, solo, Clip Stop Buttons and record arm, depending on the function selected. Use the scene launch/mixer function buttons to select the function you want to control.
Customizable — The two fully-customizable User Modes transform the grid into a drum pad controller, DJ effect controller or anything else you can think of. The default state for User Mode 1 provides drum pad control for Live's Drum Racks—great for sketching out beats. Using Live's simple MIDI mapping, it's easy to create custom control environments, whatever devices you're using and however your Live Sets are configured.
Made for Max for Live — The User Modes make Launchpad the ideal hardware counterpart for Max for Live. Launchpad is flexible enough to deal with even the most detailed Max for Live devices and can handle generic parameters and controls with ease. Eleven LED states provide visual feedback that's precise enough for complex devices. Launchpad users will soon be able to download a Max for Live step sequencer patch from Novation and more Max for Live patches are planned for the future.
Communication goes both ways — Live and Launchpad are in a constant, two-way, hardware-software dialog. The back-lit grid buttons show what's happening in Live and Live, in turn, shows which section of the Session View is currently under Launchpad control: a red border around the current clip group let's you see where you are with a just a cursory glance at your screen.
Navigating the Session View — Obviously, you're not limited to controlling only 64 clips. The arrow buttons move the grid up, down, left and right one track or scene at a time. Hold down the 'Session' button in Session Mode, and you can use the arrow keys to jump eight tracks or rows at a time—very useful for navigating around large, complex Live Sets.
More buttons? More Launchpads — Want more buttons? Launchpads are designed to work together, with up to six units at once. That's more than 400 assignable buttons! Launchpads running on the same system can run in different modes, so you can control the Session View, mixer and custom setups all at once, with one Launchpad for each.

Launchpad comes with a custom-tailored software package: Ableton Live 8 Launchpad Edition.
This features eight audio and eight MIDI tracks plus eight Session View scenes. It also includes Live's classic effects and even allows custom mapping, making it a basic but adequate out-of-the-box solution for studio and stage. To see the differences between this version of Live and the full version of Ableton Live 8, please check this feature comparison chart.
Launchpad will be available in stores worldwide from November 1, 2009. Pricing is expected to be around $199 USD (MAP) /149 EUR (VAT not included).