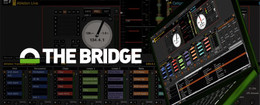 Ableton and Serato have announced the release of The Bridge, a software partnership which brings together elements of DJ performance and production.
The Bridge spans the gap between music production and DJing, creating a natural link between Ableton Live and Scratch Live. The Bridge provides a powerful fusion of DJ and production tools, opening a world of opportunities for DJing, remixing and live performance.
The Bridge 1.0 features
'Ableton Transport Control' allows tight synchronization between Ableton Live and Serato Scratch Live's interface with 'Ableton Transport Control'.
The 'Ableton Player' opens a window into Ableton Live's Clip View to launch samples or tracks in real time with Scratch Live.
Tight Beatgrid implementation ensures that the 'Ableton Player' stays locked to the swing of any set.
Serato DJ performances can be recorded as Ableton Live Sets, complete with song placement and fader movements with 'Mixtape'. (Fader and EQ automation only available when mixtape is recorded with Rane TTM57 SL and Rane Sixty-Eight)
The Bridge requires Scratch Live 2.1.1 and Ableton Live 8.2, which both are now available.
Changes in Scratch Live v2.1.1
Ultra Knob effects for 1 Knob performance control of advanced effects.
32 new Ultra Knob effects and 28 new Super Knob effects including "Echo Out" and "1 Knob HP/LP Filter".
Plug and Play support for the Novation Dicer Scratch Live controller.
Full integration with the Pioneer CDJ-2000 and CDJ-900 in "Advanced HID Mode" including library navigation, album art, overview display, and responsive platter control.
Support for The Bridge, which allows DJs to playback Ableton Live sets through Scratch Live, trigger clips within Scratch Live from the Ableton Player and record mixtapes as a multi-track Ableton file.
Changes in Ableton Live v8.2
Support for The Bridge, our collaborative project with Serato. The Bridge is free for users of Live/Suite 8.
Amp, an audio effect that models guitar amps and cabinets. Amp is free for Suite users.
Some changes were made to the Help Pages regarding how to report a crash and how to contact support. When restarting Live after a crash, Live produces a file named "Ableton Crash Report… .alp", whereas choosing "Get Support.." in Live's Help menu produces a file named "Ableton Status Report… .alp".
Bugfixes, details in the release notes.
The Bridge is free for anyone who owns Serato Scratch Live compatible hardware, and a registered version of Ableton Live 8.