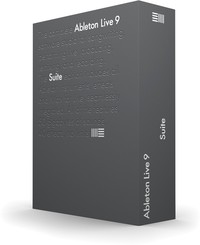 Ableton has version 9 of its Live music production software for Windows and Mac.
Record automation into clips. Edit automation with curves. Session View automation lets you capture your performance or add movement to your loops. Use curves to make automation more musical.

Live's unique Session View makes it easy to improvise with musical ideas. In Live 9, you can now record parameter changes directly into Session View for even more flexibility. Edit automation curves with the mouse to create smooth mix transitions or radical parameter changes in your clips.

In one click, create new Session View scenes from your Arrangement tracks, or drag and copy individual clips from Arrangement to Session. The automation comes with them, making it easier than ever to move from improvising to arranging and back.
Changes in Live 9
Session automation: In Session View, automation can now be recorded in real time directly within clips. Automation can move together with clips between Arrangement and Session View.
Find sounds fast: Live's new browser puts all instruments, effects, samples, and plug-ins in one easy-to-navigate view. Drag and drop folders from anywhere on your computer, search as you type and navigate from the keyboard to find everything quickly.
Discover new sounds: Live comes with a large selection (3,500 in the Suite edition) of production-ready sounds, which were carefully crafted with the help of over 40 artists, sound designers and engineers. All sounds feature Macro controls for fast access to their most meaningful, musical parameters.
Get your sound right: Live's studio effects have all been reworked for even better sound and usability. The Glue Compressor is a new effect – an authentic model of a legendary 1980s console bus compressor. EQ Eight has an audition mode for isolating frequencies and an expandable spectrum display. The Gate and Compressor effects feature a Gain Reduction view which shows changes in signal level over time.
Extract music from samples: Live's new Harmony, Melody and Drums to MIDI tools extract natural-feeling MIDI directly from the favorite parts of your music collection. You can also sing, tap a rhythm, play any solo instrument, then use Melody or Drums to MIDI to turn your recordings into MIDI clips that you can edit and reuse with any sound.
Edit the details: Transpose, reverse and stretch MIDI notes or warp clip automation and add curves to automation envelopes. New tools and an improved workflow allow fast and flexible editing of musical ideas.
Max for Live – now in Suite: The Suite edition of Live 9 comes with Max for Live and its many unique instruments, effects and tools. Max for Live itself includes 24 new devices such as a convolution reverb, new drum synthesizer instruments, MIDI echo as well as reworked versions of classics such as Step Sequencer and Buffer Shuffler 2.
Live 9 is available to purchase for $99 USD / 79 EUR (Live 9 Intro download version), $449 USD / 349 EUR (Live 9 Standard download version) and $749 USD / 599 EUR (Live 9 Suite download version).
Upgrades to Live 9 Standard / Live 9 Suite vary in price depending on the Ableton products you already own.
Ableton has also announced that its Push hardware instrument is now available to pre-order.
Push provides direct, hands-on control of melody and harmony, beats, sounds and structure, powered by Ableton Live running on your computer. High-quality, dynamic pads, buttons, encoders and display combined with an innovative workflow allow you to play and compose musical ideas without the need to look at or touch your computer, and more importantly, without interrupting the musical flow.
Push features
Play and sequence beats: Push's 64 velocity- and pressure-sensitive multi-color pads can be used to play, step sequence, and navigate within rhythm patterns – all at the same time. The 11 touch-sensitive endless encoders can control device parameters, adjust velocity, nudge timing and more.
Play melodies and chords in a new way: Push "folds" a keyboard's worth of notes into its 64 pads, with different pad colors showing the key center and other notes in the key. This allows you to play in every key using the same finger patterns, move between keys at the touch of a button, and explore new harmonies and phrases.
Improvise with song structure: Push expands the scope of creation with its unique workflow. Using just a few buttons to trigger clips, overdub notes, move between song materials and variations lets Ableton Live itself become an intuitively playable instrument.
Move smoothly from creation to arrangement: Push offers both the inspiring instrument to start creating music, and the full-featured software to finish off a track. Everything created with Push is laid out in Ableton Live on your computer – ready for fine-tuning, arrangement and export.
Includes Ableton Live 9: Push includes Ableton Live 9 Intro and works with any edition of Ableton Live 9 (Intro, Standard, Suite). All the included instruments, effects and sounds, as well as your own libraries, are ready to be played, tweaked, and personalized.
Designed by Ableton, built by Akai Professional: Utilizing Akai Pro's long-standing expertise in the field of pad controllers, Push features 64 pressure and velocity-sensitive RGB (multi-colored) pads with an adaptive layout and a touch strip with 24 LEDs for pitch bending or navigating through a Drum Rack. The 11 touch-sensitive encoders and LCD display adapt dynamically to control and show active parameters.
Fits inside a backpack alongside a laptop: Push is 370 mm / 14.57 inches wide, 293 mm / 11.54 inches deep and is 46 mm / 1.81 inches in height (including encoders) and weighs 2990g / 6.59 pounds. Backside connections are a USB port, power adaptor input and two assignable footswitch inputs. (Push is USB-powered, the brightness of the display and LEDs can be increased by using the included power supply).
Push cover: An optional steel cover doubles as a sturdy, angled stand for performance.
Push is available to pre-order, starting at for $599 USD / 499 EUR (including Live 9 Intro). Shipping is expected in 2-4 weeks.
More information: Ableton