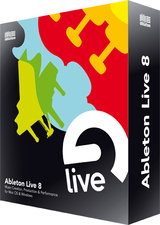 Ableton has released version 8.0.4 of Live and Suite, the comprehensive environment for writing, producing and performing music.
Changes in Live v8.0.4
Updated manual.
Improved handling of the library database.
Better GUI performance when recording many automation parameters.
The APC40 script remembers the last set bank for each device and restores that setting when the corresponding device is selecting again.
On Mac OS X, if the custom dialog of a plug-in would not process incoming keys Live will handle them. Depending on the plug-in, this should provide a similar work flow as in Live 7.
Several improvements for the Share functionality.
On Windows, support for up to 256 audio channels when using ASIO.
Various bug fixes, details here.
Visit Ableton for more information.