accSone has announced the release of crusherX-Studio! 5.2, a granular synthesis VST plug-in for 32/64bit Windows.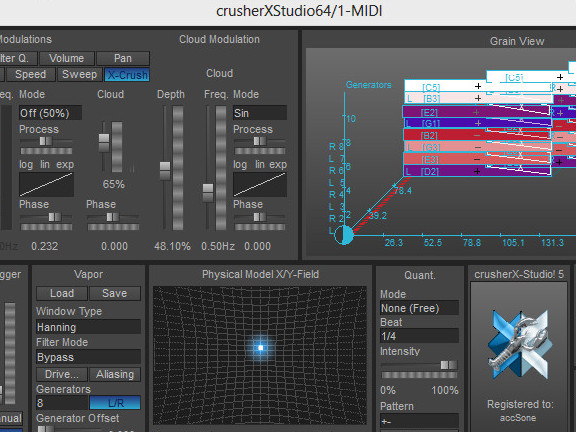 crusherX-Studio! 5 clearly focused on the needs of professionals: Native 64bit support is provided and this enables the enhancement of grain lengths and modulation depths up to 60sec. It open the door towards huge, massive and long lasting evolving sound clouds.

And a new vapor parameter is introduced: X-Crush is invented by accSone 2014 and unique in the world of granular synthesis: It adds a special asymetric ring-modulation transformation feeded by the overlap of each grain with its successor. While interacting dynamical with the other vapor parameters X-Crush will lead from subtile ringing artifacts up to extreme phase shifting and distortion sounds.

The UI was reworked to integrate better into professional DAWs. There is more space reserved for the Physical-Modeling and Cloud-Visualization controls, the mixer controls and level meters are better accessible. Several background assistances ensures quicker workflows. This saves your time and creates more joy on your sound investigation.
Changes in crusherX-Studio! 5.2
Add X-Crush parameter that does sound processing on the grain overlaps.
Add 64bit support (32bit is still available).
Add restoring of the vapor parameters UI settings (e.g. selected group, fader ranges) on reopening the editor.
Add automatic fader range buttons behavior on parameter changes.
Add restoring of all GUI settings on each plug-in instance (e.g. choosing of different GUI colors for each plug-in instance is now possible).
Adds longer grain delay and grain lengths up to 60sec due to 64bit support.
Improves UX, enhance workflows and UI Skins.
Adds background logic that provides usefull setting adjustments on changing parameters.
Updates presets for multichannel output.
Adds preset change and morphing feature (change presets via UI, MIDI and parameter).
Adds storage of control assignment window position.
Adds standard menu popups for item selection.
Fixes volume slider manual editing bug.
Fixes save/load dialog bug.
Reduces footprint by merging stereo and surround (3D) versions together.
Reduces footprint of the program data (faster program loading).
crusherX-Studio! 5 for Windows is available for purchase for 179 EUR (incl. 19% VAT).
More information: accSone