Plugin Boutique has launched an exclusive sale on the Brainworx bx_subsynth, a subharmonic synthesizer plugin that integrates a mix of classic and modern processing to add body and low-end to your sound.
The plugin models the dbx 120XP Subharmonic Synthesizer's elemental sound, with dramatically expanded processing capabilities and controls.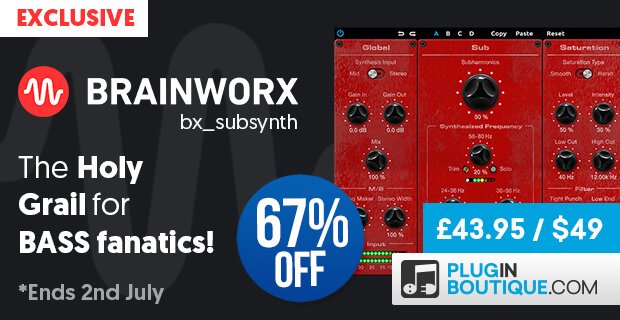 In developing bx_subsynth, Brainworx initially made a meticulous model of the legendary dbx 120XP Subharmonic Synthesizer's Waveform Modeling™ engine, which generates discrete bass frequencies one octave below what you feed in to it. They then supersized the 120XP's feature set to create much tighter, clearer, bigger and resonant bass.

For starters, bx_subsynth generates subharmonics in up to three discrete frequency bands versus the 120XP's two—the addition of a higher bass band for resynthesis lets you capture and nosedive the fundamental frequencies of a much wider variety of instruments, including snare drum and acoustic guitar. The Tight Punch control creates crystal-clear, body-thumping bass by adding a resonant sub-bass peak and filtering out unwanted lows below its cutoff frequency. Powerful Edge processing lets you select from two modes of operation—Smooth and Harsh—that compress and saturate your tracks, alternately delivering super-compact or explosively trashy drums and throbbing, in-your-face bass guitar. And of course, being a Brainworx plugin, bx_subsynth is a surgeon's knife for stereo imaging: On stereo tracks, you can choose to process only the mid channel or both left and right channels, collapse the processed bass to super-tight mono, and stretch the stereo image a mile wide.
The bx_subsynth plugin (VST/VST3/AU/AAX) is on sale for £43.95 GBP until July 2nd, 2018.
More information: Brainworx bx_subsynth