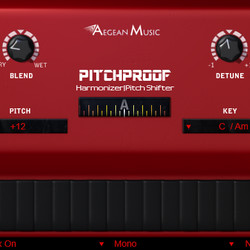 Aegean Music has released version 1.1 of Pitchproof, an audio plug-in that can shift the pitch of the input.
Among a few minor things, the new version has some new modes that are used with MIDI notes to modulate the pitch allowing users to get custom effects, including arpeggios and melodies.
Changes in Pitchproof v1.1
Fix: When loading presets knob positions are now correct.
Fix: Output volume was too loud, now it is very similar to whatever the input volume is.
Tips: You can see a tooltip for knobs telling you the value.
New Modes:

Keyboard-Modu Mode: The pitch is offset by the incoming MIDI note. Set pitch in the mid left menu to 0 to have C offset by 0, C# by 1 and so on. The bend wheel will work as well.
Keyboard-Force Mode: The pitch shift effect will try it's best to match the MIDI note, or to just force it to the default if no note is pressed. It is preferable to use Keyboard-Modu Mode instead of this if possible since it is more reliable.
Pitchproof for Windows (VST) is available to download as freeware.
More information: Aegean Music / Pitchproof