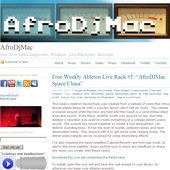 AfroDJMac has released Space China, a new free Ableton Live Rack.
This week's Ableton Device Rack was created from a sample of some fine china dinner plates being hit with a wooden spoon (don't tell my mom). The sample is looped around while the keys are held and the result is a wind-chime/ steel drum-like sound. From there, another synth was layered on top; this time Ableton's Operator was used to create something of a vintage electric piano sound. The sounds are mixed together to create a nice atmospheric yet distinct sounding tone. It has the best of worlds, ambient noises and clear discernable notes. Play around with it to get some wide ranging tones. The dinner plate sample can be reversed for some interesting effects…

I've also included the same Amplifier/Cabinet/Reverb rack from last week, to add to the sonic palette. Enjoy and be sure to leave any feedback or share any music you create with these racks!
More information: AfroDJMac