Danish audio company AIAIAI demonstrates its continued commitment to music creation and audio innovation with the unveiling of the world's first wireless headphones for music creators.
The process of creating music has changed drastically with the digital revolution. New technology has made it more accessible than ever, and creators are reaching a global audience with the click of a button. Today, 500 million people either play an instrument or plan to learn, 50 million make or record music, and 25 million upload that music to streaming services according to research by MIDiA.
What was before restricted to professional studios, is today achieved in home studios or on the road around the world, and artists are expressing themselves creatively in new ways. The TMA-2 Studio Wireless+ allows creators to finally break free from the cable and expand their creative freedom.
The TMA-2 Studio Wireless+ features ultra-low latency and lossless audio from the new W+ Link technology, specifically developed for music creation, with the robustness and stability required to unlock a latency-free wireless experience. Additionally, the TMA-2 Studio Wireless+ also features Bluetooth 5.0 with +80h playback time, and a coiled hi-fi cable for the traditional setup, for a versatile headphone for the modern dynamic workflow.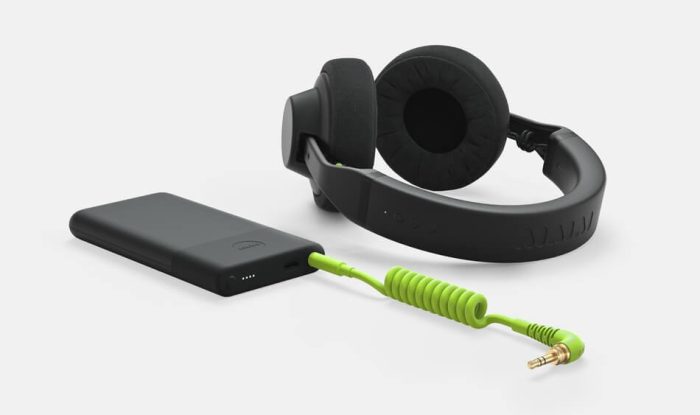 The TMA-2 Studio Wireless+ has been in development for more than 3 years, co-developed with Richie Hawtin and a global network of professional artists. Having a legendary artist like Richie Hawtin involved from conception to the finished product has allowed AIAIAI to take this product to the next level. Contributing with his extensive knowledge about dynamic workflows and forward-thinking technology has ensured the TMA-2 Studio Wireless+ is a product designed for the future. In addition to Richie, collaborating with a wide network of artists across genres from hip hop to techno, percussionists to jazz, has solidified the TMA-2 Studio Wireless+ as a revolutionary product that enhances creative freedom.
"Today, more people express themselves through music and in new, creative ways, and we are passionate about building the future with them. Wireless music creation has long been a holy grail – finally making it a reality with many of our favourite artists is a dream come true!"
Frederik Jørgensen (AIAIAI, Founder)
W+ Link is AIAIAI's new technology that has been developed to ensure it fully unlocks the ability to use the revolutionary headphones wirelessly. Unlike the wireless technology used in Bluetooth, W+ link has been developed to provide a stable low latency and robust connection and lossless audio. Using a dual antenna on the receiver ensures it can be trusted throughout the process with a constant signal that simultaneously analyzes internally to ensure the best signal is applied and used for the audio stream. Additionally, the much higher, premium bandwidth allows several samples to be sent multiple times continuously in the audio connection to ensure any audio dropouts are eliminated. The key to the success compared to other wireless products is that W+ Link works continuously with a stable low latency connection ensuring creators don't miss a beat while they solely focus on the creative process.
TMA-2 Studio Wireless+ is equipped with AIAIAI's standout bio-cellulose diaphragm driver which ensures precise reliable audio for the creative process. The bio-cellulose diaphragm is made of a bacterial cellulose, an organic compound grown using certain types of bacteria. The precision-grown diaphragm from bio-cellulose is stiffer, lighter, and stronger than regular PET speaker units, allowing the sound-producing diaphragm to vibrate without the levels of distortion found in other speakers. Each of these qualities results in more accurate and detailed sound from the speaker with the ability to retain clarity of sound at high volumes.
The process for creating music is continuously evolving, AIAIAI's TMA-2 Studio Wireless+ complements these new workflows, unlocking more creativity and freedom.
The TMA-2 Wireless+ is available for preorder and available in stores in January 2022, priced 350 USD/EUR, £300 GBP.
"In 2021 it feels archaic to be wired to a piece of hardware just to guarantee pristine audio quality. The TMA-2 Wireless+ headphones give you the freedom to step further away from your devices allowing you to capture creative and expressive ideas while immersed in perfect sound. Disconnect and dive deeper into your moment of creativity."
Richie Hawtin (Artist, TMA-2 Studio Wireless+ Co-Developer)
More information: AIAIAI