Plugin Boutique has launched an exclusive sale on AIR Instrument Expansion Pack 3 SELECT, offering a 75% discount on the bundle.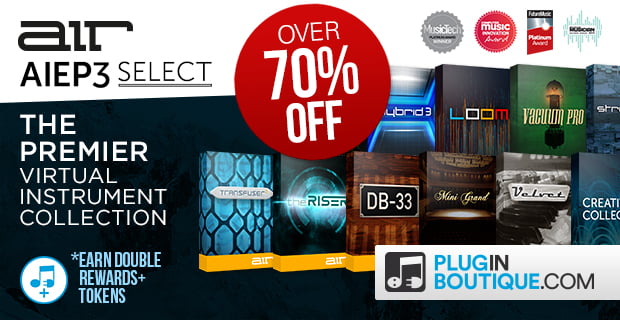 The bundle includes The Riser and Flux Transitions Expansion Pack, DB-33 Tonewheel Organ, Mini Grand, Loom, Vacuum Pro & Fresh Air Pack Vol 1 expansion, Hybrid 3, Velvet 2, Structure 2, Strike 2, and Transfuser 2.
The new AIR Instrument Expansion Pack is an inspiring collection of virtual instruments and progressive sound-design tools for the modern producer, composer, and performer. Developed by AIR Music Technology, the team responsible for creating the award-winning virtual instruments and core effects offered with Avid's Pro Tools software, the AIR Instrument Expansion Pack brings the world's most innovative virtual instruments to your favorite DAW. These seven instruments, ranging from breathtaking emulations of vintage gear to unique synthesis technologies, enable you to tap into familiar sounds or create something no one has ever heard before. Breathe some life into your music.
AIR Instrument Expansion Pack 3 SELECT is on sale until November 28th, 2016.
More information: Plugin Boutique / AIR Instrument Expansion Pack 3 SELECT