Akai Professional has announced a major firmware update for its MPC Live & MPC X models, adding Ableton Link support via Wi-Fi, Bluetooth MIDI compatibility, major enhancements to real-time pitch-shifting and time-stretching algorithm.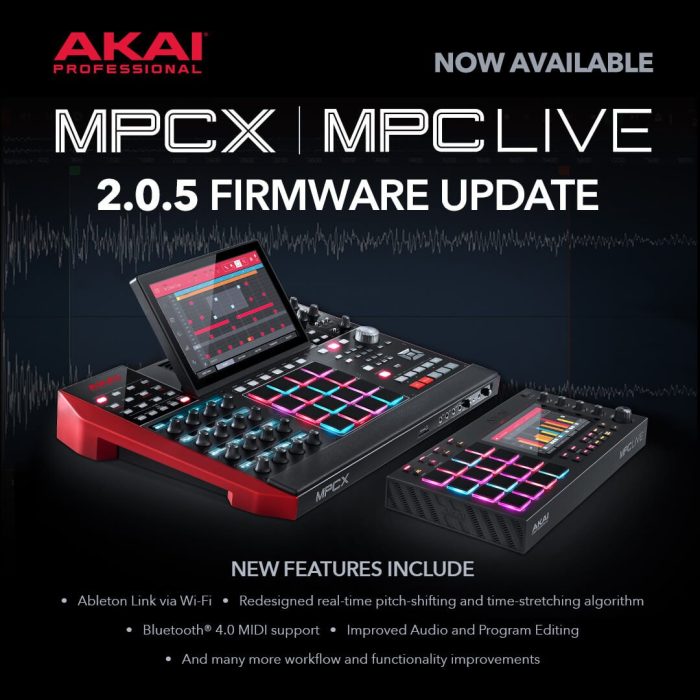 The new 2.0.5 update introduces a number of powerful production and performance features, including: a completely redesigned real-time pitch-shifting and time-stretching algorithm for manipulating loops and hits on each pad within a drum program, improved Program and Audio editing, Bluetooth 4.0 MIDI capability and enhanced support for storage expansion/external drives.
Another huge new addition to 2.0.5 is Ableton Link support, the first time ever on a standalone hardware unit. MPC users can now synchronize and play back audio in real time with other Link-enabled music making devices and apps (including iMPC Pro) using a shared Wi-Fi connection.

"This firmware update elevates the MPC to an entirely new level," said Pete Goodlife, Director of Software Development for Akai Professional. "The new features make MPC a genuine performance powerhouse, and the enhanced connectivity provides a world of new creative possibilities."
Changes in firmware v2.0.5
Ableton Link via Wi-Fi – Sync MPC with any Link-enabled apps and devices for cross-platform collaboration.
Bluetooth® 4.0 MIDI support – Controllers such as the LPK25 Wireless and LPD8 Wireless can now be used to control MPC instruments and kits.
Audio warping and time-stretching on the individual drum pad level within a drum program.
Improved Audio and Program Editing.
Enhanced Support for Storage Expansion – Hard Drives can now be formatted using the MPC.
The firmware update is available for all registered MPC Live and MPC X owners.
Akai Pro has also announced complete VIP Native Plugin Map Standard (VIPMS) support for EastWest's catalogue of premium virtual instruments, which are included in their award-winning ComposerCloud subscription service.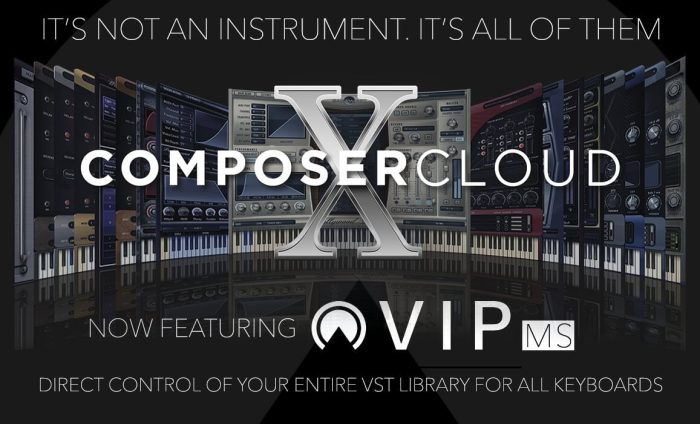 Now with the combination of VIP 3.0, an EastWest ComposerCloud subscription and a compatible MIDI controller, users can catalogue, browse and manipulate more than 10,000 EastWest instruments with the hands-on ease-of-use facilitated by dedicated hardware controls.
"The VIP Native Plugin Map Standard (VIPMS) marks a breakthrough for the VIP platform" said Pete Goodliffe, Director of Software Development for inMusic Brands. "Now 3rd party instrument manufacturers can produce their meticulously curated plugin maps, offering enhanced integration and superior workflow for musicians, producers and live performers. We are excited to announce EastWest as the first developer to provide full support for VIPMS across their entire catalogue, offering end-users the unparalleled tactile access to such a critically-acclaimed virtual instrument collection as only VIP can."

"We are very excited about this new hardware and software integration." Said Doug Rogers, EastWest Founder and Producer. "Artists want to focus on creating music, not wasting time grappling with the technology, and this co-operation achieves that goal; and with the addition of a ComposerCloud subscription artists have a system that includes every kind of instrument, used by the who's who of the industry, to create any style of music."
Akai Pro distributor Plugin Boutique is currently offering some exclusive VIP 3.0 Bundle+ deals.
More information: Akai Pro