Alan Marcero has released Trance / Dubstep Patches v1.0, a soundset for the Nord Lead 2X and 2 synthesizers and the Discovery and Discovery Pro plug-ins instruments from discoDSP.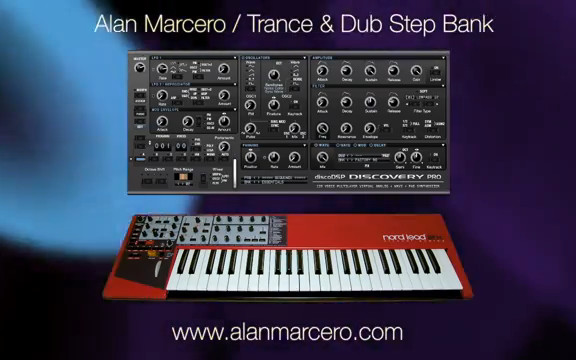 The Nord Lead 2 differs quite a bit from the Nord Lead 3. It has a slighty edgier and punchier sound, fatter OSCs, and more aggressive filters. However, it lacks the Nord Lead 3's extensive modulation capabilities, dedicated sync for each OSC, and variable unison. It's give and take, but the Nord Lead 2 and 2X prove to be quite up to the challenge and can make their own space in a studio that has even both a Nord Lead 2 and Nord Lead 3.

Patches 1-25 are Bass, 26-74 are Leads, 75-89 are Pads, and 90-99 are Plucks. This bank does not contain percussion patches.
The soundset is available for purchase at a suggested price of $25 USD.
More information: Alan Marcero