Alesis has announced its all-new SamplePad 4, a compact all-in-one percussion and sample-playing instrument with wide-ranging capability and adaptability in a trim, easy-to-place form factor.
SamplePad 4 comes equipped with four responsive, LED-illuminated rubber pads, dual-zone trigger input, and eight preset kits. With a built-in library of the most commonly requested percussion and electronic drum sounds and the ability to load samples, the only limit is the player's imagination.

For even more flexibility, users can tune and add reverb to their sounds. Intuitive navigation makes it easy to browse through kits and players can drag and drop their samples via USB on a Mac or PC without removing the SD card. The bright blue LED lighting is clearly visible in every setting.
SamplePad 4 features
4 pads allow endless percussive and sampling triggering possibilities.
Built-in library of 25 of the most popular percussion and electronic drum sounds.
8 preset kits.
Add any sound sample to your drum or percussion setup via SD card.
Accepts SD/SDHC cards up to 32GB, storing 91 user kits and 512 samples per card.
Dynamic blue LED lighting provides clear visibility in any setting.
Intuitive navigation lets you browse through your kits with ease.
Drag and drop samples via USB on Mac or PC without removing the SD card.
USB-MIDI in/out.
Tune and add reverb to your sounds.
Dual Trigger input for expansion.
SamplePad 4 will be available in the Q4 2015, with an MSRP of £129.99 GBP.
Alesis has also announced all-new CompactKit 4 and CompactKit 7 portable tabletop electronic drum kits.
These versatile, easy-to-play units enable younger drummers—even non-drummers—to experience the enjoyment of playing drums right away, while their small size and battery-powered option means they're easy to transport and play anywhere.
CompactKit 4
The Alesis CompactKit 4 is a tabletop electronic drum kit with everything a young drummer needs to sharpen their skills. Four velocity-sensitive drum pads deliver realistic drum sound with the feel and response of real drums. There are dozens of built-in songs and rhythms, so any young percussionist can start playing along with the music right away.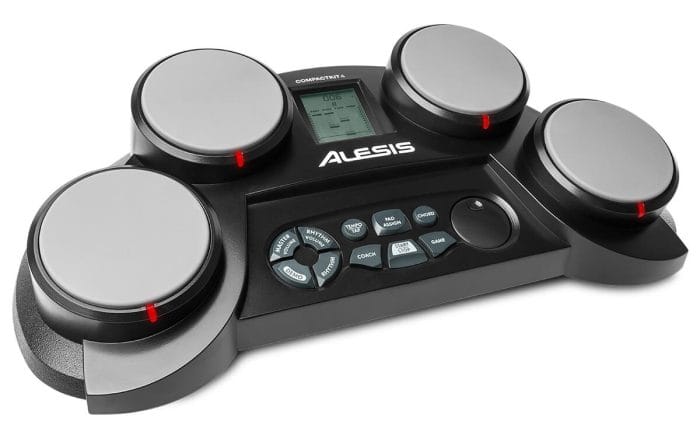 CompactKit 4 includes a music coach feature that shows notes on the LCD screen and teaches the player how to play along with the built-in songs and rhythms. The built-in game function brings an additional measure of enjoyment to the experience of learning how to play. It's powered by AC or 6 C batteries (not included).
CompactKit 7
The Alesis CompactKit 7 is a tabletop electronic drum kit with seven velocity-sensitive drum pads that deliver realistic drum sound with the feel and response of real drums. It also comes with two pedals for hi-hat and kick drum, so players feel as if they're sitting down at an actual set. There are 100's of built-in percussion voices, preset drum kits and play-along songs, so anyone can get started right away with their own customised sound.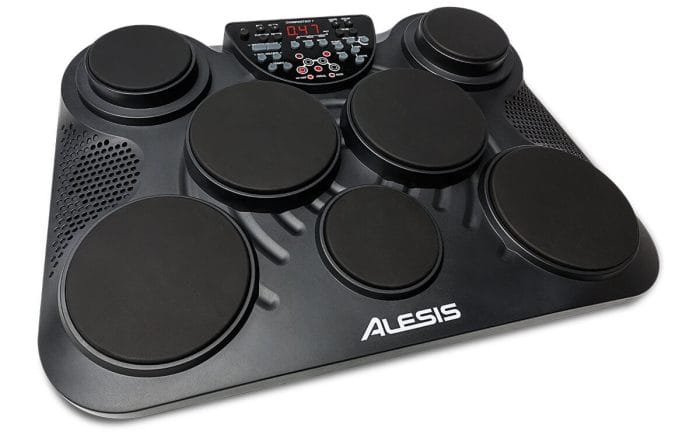 The 3-digit LED display shows the status of all the operational settings and separate LEDs light up in response to which pad is being struck, giving instant visual feedback. The self-recording function records during realtime play and retains the recording even after the unit is turned off. Players can use the USB-MIDI output to connect CompactKit 7 to trigger their favourite DAW and virtual instrument plug-ins.
The CompactKit 4 and CompactKit 7 will be will available in November 2015 at an MSRP of £54.99 GBP and £99.99 GBP, respectively.
More information: Alesis