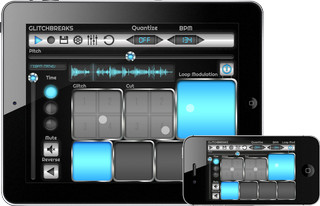 Alex Matheu has updated the Glitchbreaks manipulation tool for "Glitching" breakbeats to v1.11.
Glitchbreaks uses four audio channels setup like mute groups. You can quickly switch between them to construct new beats, or manipulate loop points to "Cut" or "Glitch" the breaks.
Changes in Glitchbreaks v1.11
Audiobus Support: Now you can stream live audio from Glitchbreaks directly to other Audiobus-compatible apps.
Load presets now does not stop audio.
Made effects toggles smoother.
Glitchbreaks is available to purchase for $4.99 USD.
More information: Glitchbreaks