Musikmesse 2013 sees ALEX4 Distribution proudly introducing several new brands to its European retail network, with notable new analogue synthesisers and innovative musical hardware products being showcased by big names like Buchla Electronic Musical Instruments and Haken Audio from the USA alongside emerging European manufacturers and already in place partners alike.
Doepfer is proudly previewing the MAQ 16/3 Dark Edition of its long-running, rack-mount MIDI Analog Sequencer with CV/Gate connections.
This limited-edition version celebrates the 20th anniversary of its development in close collaboration with techno pop pioneers Kraftwerk.

Now that aptly-named Dark Edition features a black front panel and bigger knobs to match the recently redesigned desktop Dark Energy II Analog Synthesizer and accompanying desktop Dark Time Analog Sequencer in both look and feel.
Several significant additions coming to Doepfer's diverse A-100 Modular System are also on show, including the A-127 Triple Voltage Controlled Resonance Filter; A-130 Linear Voltage Controlled Amplifier; A-131 Exponential Voltage Controlled Amplifier; A-135-1 Quad Linear VCA/Voltage Controlled Mixer; A-157 Trigger Sequencer Subsystem (based on the same 8×16 matrix central to the discontinued 'full-size' 8U rack-mount SCHALTWERK MIDI Trigger Sequencer); A-171-2 Voltage Controlled Slew Processor/Generator; A-180-2 Small Multiple; A-190-5 Polyphonic USB/MIDI to CV/Gate Interface; A-190-8 USB/MIDI to Sync Interface; and A-192-2 CV/Gate to MIDI/USB Interface — not forgetting the newly-designed, pocket-friendly A-100 Low Cost Base Frame to house all those modules… and many more besides.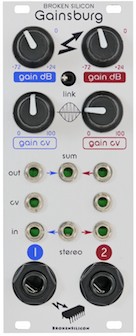 ALEX4 also spearheads new additions to the ever-expanding Eurorack modular system format by boutique European manufacturers Endorphin.es from Austria — following up its Furthrrrr Generator dual oscillator module with a prototype of the Terminator analogue delay/low pass gate/reverb — and Frankfurt's very own Broken Silicon, making its Eurorack debut at Musikmesse 2013 with Gainsburg, a dual VCA module with severe signal-boosting for some seriously nice-sounding distortion… interstellar overdrive, anyone?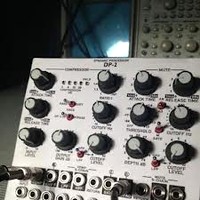 Having given its RES-4 Quad VCA a cream-coloured facelift to match the recently relaunched MMF-2 Stereo Multi Mode Filter, high-standing Swedish synthesiser developer and manufacturer CWEJMAN is back with the DP-2.
With this brand-new complex modular compression tool CWEJMAN continues to play its part in ensuring that the Eurorack modular system format remains even more buoyant and musically vibrant than ever!
Reaching beyond Eurorack — and, indeed, Europe itself, ALEX4 is delighted to introduce Dr Lippold Haken and Edmund Eagan of Haken Audio fresh from the USA. Duly demonstrating the captivating Continuum Fingerboard realtime performance controller — running the latest firmware in its full-size glory (with greater pitch range than a traditional 88-note MIDI keyboard), they are also introducing the inbuilt EaganMatrix digital modular synthesiser, designed to take advantage of the controller's delicate and dramatic musical performance possibilities!
Alongside that rolling workshop, ALEX4 proudly presents the wonderful world of Buchla Electronic Musical Instruments to the wider European musical community. A new incarnation of founding father Don Buchla's classic Californian design from 1973, its Buchla Music Easel is a portable, performance-orientated instrument, comprising the 281e Touch Keyboard Controller (29-key chromatic touch keyboard with pitch, pressure, and pulse outputs) and 208a Stored Program Sound Source (primary sound generator with five-position sequencer, ADS-type envelope generator, pulser circuit, modulation oscillator, complex oscillator, dual lowpass gates, envelope detector/inverter/preamp, and output section) housed in a rugged carrying case.
Seeing is believing, but you'd better believe it: standing in front of an actual Buchla electronic musical instrument is truly a sight (and sound) to behold!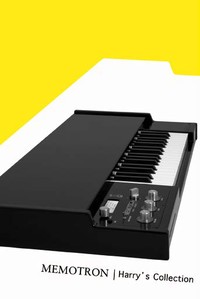 Berlin-based Manikin Electronic is introducing Harry's Collection for its Memotron, an acclaimed digital remake of the legendary Mellotron, much beloved by the likes of popular music landscape-changing Beatles — think 'Strawberry Fields Forever' — and Moody Blues, classic prog-rock era Genesis and Pink Floyd, as well as electronic music pioneers Klaus Schulze and Tangerine Dream during their so-called 'Berlin School' days.
Complimenting already available Memotron sound library collections, this includes 12 sounds originally created by none other than Harry Chamberlin, famed for inventing his namesake electro-mechanical Mellotron forerunner, the 1950s-vintage Chamberlin. Available as a 35-note keyboard — now in charcoal grey or beautiful black lacquered finishes in addition to traditional white — or conveniently compact 1U rack-mountable module, Memotron sound library collections continue to heighten its status as a must-have 'digital Mellotron' for the modern-day discerning musician!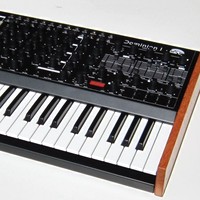 Also joining ALEX4 at the Musikmesse 2013 launchpad is fellow Berliner MFB, presenting a keyboard version of its Dominion X programmable analogue synth with onboard sequencer, alongside an all-new, mature MIDI-compatible drum machine: Tanzbär bristles with innovative functions from contemporary sequencers and workstations, together with high-quality sounds and six full-size output jacks. MSRP will be €840.00 EURO (including 19% VAT).
Having had to discontinue some earlier established products due to plastic casings no longer being available, MFB is rereleasing 'MkII' models of its Kraftzwerg and Microzwerg desktop analogue synths alongside the Urzwerg Pro step sequencer — all rehoused in more upmarket metal casings combined with eye-catching wooden end cheeks, while its popular TR-808 classic-cloning 552 Drumcomputer remains in production.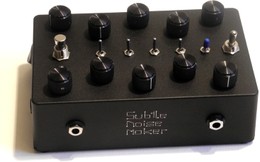 SubtleNoiseMaker from Vienna is introducing its not-so-subtle-sounding Cacophonator Noir, a handmade electronic music synthesiser, effects pedal, and noise box. This extreme noise and drone machine is inspired by circuit-bending, but better suited to those who prefer music-making stability! MSRP: €369.00 EURO (including 19% VAT).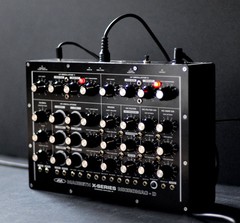 Thanks to ALEX4, Scottish 'synthmeister' Ken Macbeth's namesake Macbeth Studiosystems is making its seriously-sought-after boutique synths available throughout Europe, starting with the upcoming Micromac-D, a full-scale integrated analogue desktop — small… but perfectly formed!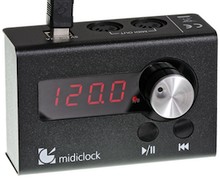 Also new to the ALEX4 fold — and Musikmesse 2013 — is the midiclock from Berlin-based Erfindungsbüro Rest & Maier.
This simple but brilliant little tool can synchronise several software and/or hardware sequencers with the greatest of jitter-free ease and full BPM control via a dedicated knob. MSRP will be €195.00 EURO (including 19% VAT).
Last, but by no means least, Trautoniks from Germany is introducing its new Trautonium Manual with separate CV and Gate manuals in 70cm and 90cm lengths.

Based on the Volkstrautonium, a pioneering monophonic electronic musical instrument mass-manufactured by Telefunken throughout 1933/34, those manuals are made of a resistor wire over a metal plate — playable just like an original, only when pressed produce a sound on any connected CV/Gate-equipped analogue synth with perfect velocity curves. Come see for yourselves… on Stand C54 in Hall 5.1!
ALEX4 Distribution GmbH is showcasing its unique product portfolio of analogue synthesisers and innovative musical hardware from smaller specialist manufacturers at Musikmesse 2013 on Stand C51 in Hall 5.1.
More information: ALEX4 Distribution