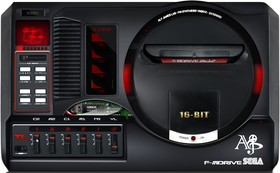 Aly James Lab has released FMDRIVE, a virtual synthesizer instrument that emulates the Sega Genesis / Megadrive sound chip.
Fact is that the Megadrive had a very characteristic and cool sound, -much- cooler than Nintendo's :)
I grew up playing some great games on the genesis. So, I thought the Genesis/Megadrive also deserves that kind of attention and its own VST Instrument.

You may think, the YM2612 chip is basically another 4 Operator YAMAHA FM synth but there is more… DAC, SSG Envelopes and Special operating MODES. On top of that the SEGA had a distinctive distorted sound, more or less present, depending on revision models.

FMDRIVE is not simply an YM2612 emulator, it add many extended features and huge user friendly GUI! It is a fantastic synth suitable for chip music and SEGA nostalgic pleasure and also a powerful FM tool for modern music production.

You can design a vast range of sounds on top of 33000 instruments presets already extracted from Games ROMS. Go further with extended controls, and even MIDI control the real hardware with a special add on interface: The GENMDM designed by Little Scale.
FMDRIVE for Windows (VST/Standalone) is available at a minimum donation of 10 EUR.
More information: Aly James Lab / FMDRIVE