Aly James Lab has released version 2.0 of VLinn, a virtual Linn LM-1 Drum Computer instrument for Windows and Mac.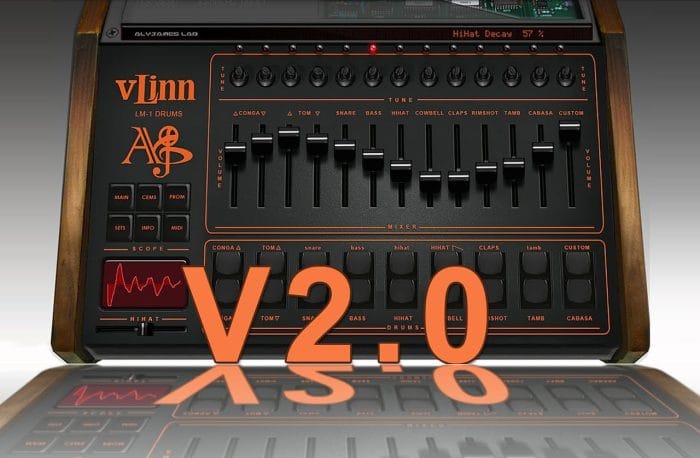 VLINN accurately reproduces the internal circuitry and filtering of the legendary Linn LM1 Drum Machine. It's the closest thing to the real deal – reading and decoding original the EPROM data images in real time using the exact decode table from the AM6070 DAC.

Use of the stock LM1 EPROMS has been possible with the kind permission of Roger Linn, the creator of the Linn and early MPC machines along with many other great products.

VLINN also allows you to experiment with different EPROMS. You can load compatible ULaw companded images (.bin files) from the Linndrum, DMX, DrumTraks etc., or even create your own.
Changes in VLinn v2.0
Cross platform capability (32bit or 64bit Host, VST2.4, VST3 or AudioUnit Host).
New MIDI Panel with MIDI learnable custom trigger maps.
Change in default MIDI trigger map (see manual).
New panning capability per drum, panning knobs will replace the tuning knob row via a popup box selection (available while clicking on the TUNE label on the GUI. See control panels).
Improved GUI.
All EPROMS can now be replaced versus only 7 of them in version 1.
Easier and faster Custom EPROMs loading and management; no need to specify the size anymore, VLINN does it for you. Once loaded, custom EPROMs are saved with the patch.
The additional CUSTOM voice is renamed to EXTRA and is now loaded by default with a modified delay-less stock LM-1 Snare (see Manual -> EPROM Loading).
Double clicking a control resets to default value on most of the GUI controls.
ALT+Left click on each Tune Knob in order to set the clock rate precisely by typing in a value. The main info display will now only display the last edited parameter info or value, such as which EPROM .bin is loaded or the knob, slider etc. current value.
In addition to the original velocity mode, 2 Full velocity modes are now available with linear and now exponential response.
Incoming MIDI Pitch-Bend Message is now recognized and will act as a Global tuning offset, great for live tweaking the whole set or to transpose up or down.
VLINN now transmit its triggers as MIDI OUT.
External MIDI learn for controls can now only be attached to MIDI CC messages (no more Sysx nor aftertouch).
VLinn is available for purchase for 40 EUR.
More information: Aly James Lab / VLinn