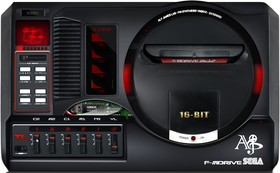 Aly James Lab has updated the FMDRIVE Sega Mega Drive / Genesis FM synthesizer plug-in for Windows to version 1.2.
FMDRIVE is not simply an YM2612 emulator, it add many extended features and huge user friendly GUI!

It is a fantastic synth suitable for chip music and SEGA nostalgic pleasure and also a powerful FM tool for modern music production.
Changes in FMDRIVE v1.2
Rewritten fast & accurate distortion emulation "ladder effect" of MD model 1.
PCM sample data DAC filter improved (now also benefit from the ladder effect too).
New DAC PCM data read LOOP function (can loop the sample data with start and end point for nice fx).
New DAC PCM wav files can now also be browed & imported via windows native explorer (with no location limitation).
New Polyphony up to 6 voices.
New optional frequency FREEZE (fixed frequency) for SPECIAL MODE.
New solid or line view for the envelope generators display with release stage highlight.
Improved CSM mode implementation.
CSM mode now respond to Release rate (RR) and handle external MIDI channels correctly.
Glide is now available in polyphonic mode too!.
Improved MONO mode.
Plus minor audio engine and GUI improvement.
The FMDRIVE plug-in for Windows (VST) is available as donationware with a minimum donation of 10 EUR.