Antares has released Auto-Tune Evo, the next generation of the worldwide standard in professional pitch correction.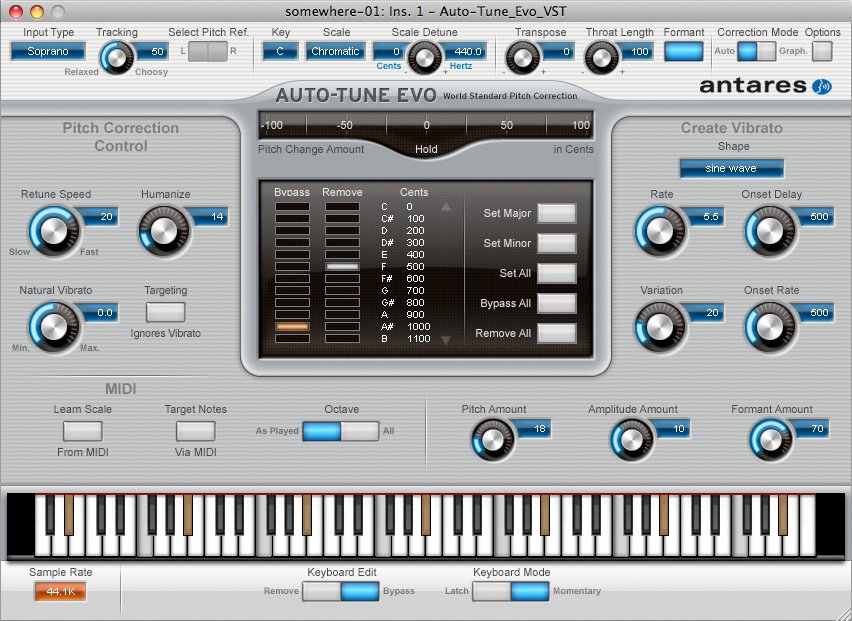 Hailed as a "holy grail of recording," by Recording magazine (and adopted worldwide as the largest-selling audio plug-in of all time), Auto-Tune corrects intonation problems in vocals or solo instruments, in real time, without distortion or artifacts, while preserving all of the expressive nuance of the original performance – with audio quality so pristine that the only difference between what goes in and what comes out is the intonation. All with a user-interface that is a model of clarity, speed and ease-of-use.
New in Auto-Tune Evo
Dramatically enhanced core technology, new features and enhanced tracking and correction capabilities.
Redesigned user interface, to allow for smoother, more intuitive workflow.
Reorganized common controls, to ensure that all of the parameters used by both Automatic and Graphical correction modes are easily available at all times.
Real-time pitch shifting, Formant correction and Throat modeling (Native versions only).
Resizable Graphical Mode window.
New Note-based pitch correction and pitch shifting.
Object-based Retune Speed settings.
Customizable object-based default Retune Speeds.
Real-time display of output pitch.
Comprehensive programmable keyboard shortcuts.
New Pitch Graph display mode.
Global transposition, formant correction, and throat modeling.
Graphical Paste function.
Enhanced pitch displays.
Nudge controls for pitch correction objects.
And lots, lots, more…
Auto-Tune Evo is available for Windows and Mac (VST/AU/RTAS/TDM) and costs $399 USD for the native version, and $649 USD for the TDM+native version. Upgrades from previous versions of Auto-Tune are available as well.
More information: Antares