Audio Plugin Deals has launched another Black Lightening series deal, with 90% off on the Virtuoso Ensembles instrument library for Kontakt by Kirk Hunter Studios.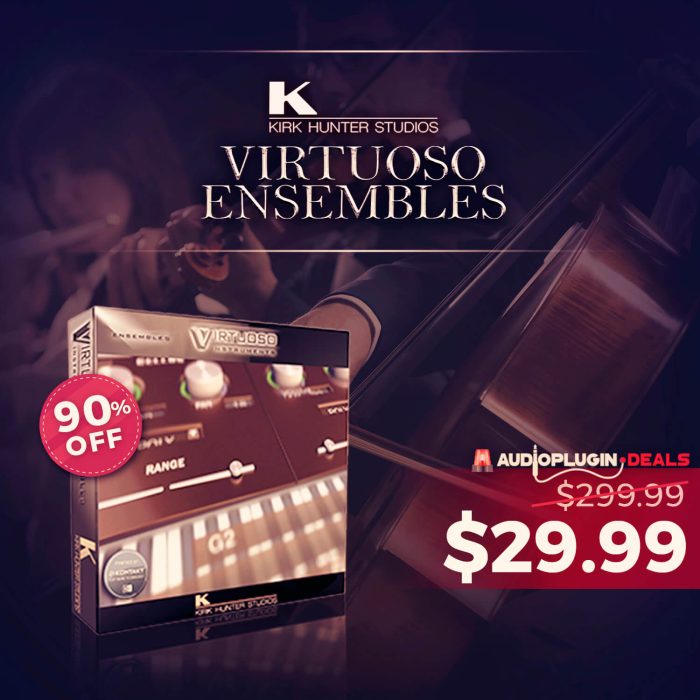 VIRTUOSO ENSEMBLES is an epic virtual orchestral collection that's ideal for music composition and live music performance. Designed with unprecedented flexibility, you now have the ability to arrange your own custom ensembles putting the orchestra at your command.
Virtuoso Ensembles features
Control four instrument sections, (strings, brass, woodwind solos) mapped across the keyboard for a realistic feeling of an entire orchestral compliment.
Multiple articulations, dynamics, and round robins.
Provides efficient and intuitive control to modify the split or crossfade between each of the 4 sections giving you amazing flexibility to get the ideal mix.
Intuitive visual dynamic LED indication for active section and active keys played.
Effortlessly switch between "Legato" and "Poly" modes.
Uses IntervaLive® to add realistic transitional intervals in both "Legato" and "Poly" mode.
Stack up any combination of the 4 sections together, or use them independently.
Control the mix of each section's volume and pan.
Includes many popular "sustained" articulations – Arco, Marcato, Tremolo, Soft and Medium Tongue, Sforzando, and more.
Includes many popular "short" articulations – Staccato, Staccatissimo, Spiccato, and Pizzicato.
Uses "slur" and "sustain" articulations. Even aggressive ones such as "Marcato" will always have smooth slurs.
Provides accent strength control for the Marcato, Sforzando, Staccato, Staccatissimo, and Spiccato articulations via velocity and MIDI CC .
Crossfade any "sustain" articulation with the "tremolo" articulation via MIDI CC (Strings only).
User-selectable keyswitching.
Choose volume control via velocity, or MIDI CC, or both.
Velocity sensitivity (strings, brass, woodwinds) and MIDI CC sensitivity (Strings) control for volume.
Fine-tune envelope attack and release control.
3 band semi-parametric equalization.
Reverb on/off and amount.
Room size (for reverb).
Stereo/Mono slider (Shown as distance in feet. With or without reverb).
Originally $299.99 USD, Virtuoso Ensembles is available for just $29.99 USD until December 1st.
All items in the APD Shop are also discounted during the Black Friday / Cyber Monday promotion.
More information: Audio Plugin Deals