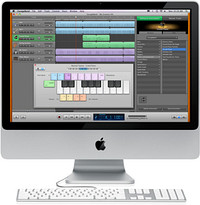 Apple has announced GarageBand '09, the music application bundled with Apple's new iLife '09 suite.
Welcome to the school of rock. A Mac-sized practice space. Your own recording studio. If you want to learn to play an instrument, write music, or record a song, GarageBand can help — whether you're a rookie or a rock star.
New in Garageband '09
Basic Lessons — Take piano and guitar lessons.
Artist Lessons — Learn from your favorite artists.
New Guitar Features — Re-create legendary guitar rigs.
Magic GarageBand Jam — Play with a full-screen band.
GarageBand '09 is available as part of iLife '09 on new Macs. You can upgrade from older versions for $79 USD.
Visit Apple for more information.