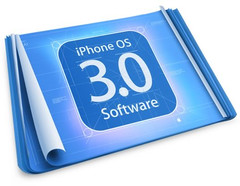 Apple has introduced iPhone OS 3.0, the next version of the world's most advanced mobile platform.
In addition to previewing its innovative features, Apple gave members of the iPhone Developer Program immediate access to the iPhone OS 3.0 software beta and an updated Software Development Kit (SDK) with over 1,000 completely new APIs.
iPhone OS 3.0 will introduce over 100 new features, including the ability to:
Search your iPhone
Cut, copy, and paste
Send photos, contacts, audio files, and location via MMS
Read and compose email and text messages in landscape
Gizmodo has some details, while Synthtopia and CDM post some interesting info on what the iPhone 3.0 OS will bring for music lovers and musicians.