Acustica Audio has announced the release of the Aquamarine3 mastering compressor effect plugin for Windows and Mac.
Featuring a dual, electroluminescent optical attenuator plus discrete voltage controlled amplifier, the mastering compressor is upgraded from the Murano compressor, developed as a high-end mastering unit, and equipped with several powerful features.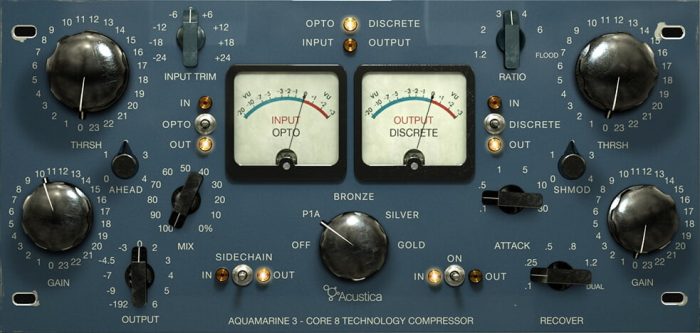 First compressor is a smooth and warm sounding opto style compressor, simple to use with just a threshold and gain make up control, it is great at effortlessly controlling dynamic range and to and finesse the signal.

Second compressor is a discrete VCA style which is punchy and can really grab a signal. It can go from a subtle 1.2:1 ratio for gentle control and transient preserving compression, to a savage "flood" overlimit, to be used for creative compression effects. Discrete VCA compressor has controllable timings to suit many situations and with digital technology the attack time has been improved to reach almost zero with very low aliasing.

One of the exciting new features in Aquamarine3 is what we call "ShMod". This is an adjustable shape control for Discrete VCA compressor attack behavior. Another innovative feature that also exponentially increases the versatility of this compressor is the look-ahead implementation where the input signal is divided, and one side is delayed, the non-delayed signal is used to drive the compression of the delayed signal, which then appears at the output. This way a smooth-sounding slower attack rate can be used to catch transients.

Aquamarine3 is based on Core8, the revolutionary upgraded multithreading technology by Acustica Audio based into an optimization of Core7 in terms of high performance but also introduces new and important features like FIR/IIR algorithmic side-chain, and predisposition for FIR/IIR clipper, and dynamic loading.
Aquamarine3 for Windows and Mac (VST/AU/AAX) is available for purchase for 199 EUR.
More information: Acustica Audio