MolecularBytes has recently updated its AtomicTransient multi-channel polyphonic transient designer to version 1.1.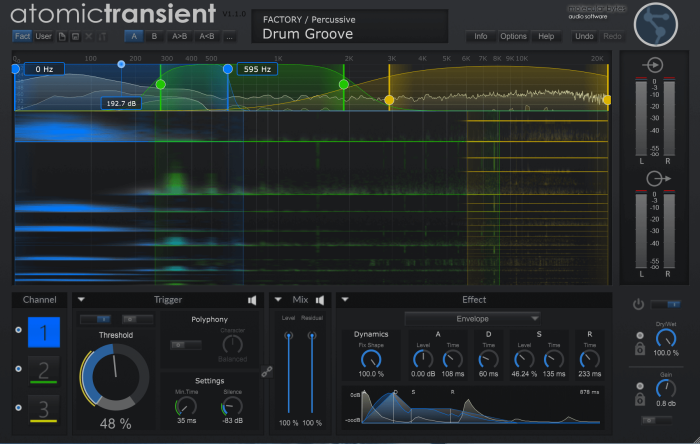 Percussive instruments or even non-percussive audio material such as guitars or pianos can be processed "note-based" with envelope changes or filter effects.
AtomicTransient makes it possible to remove, reduce or amplify drums from polyphonic audio tracks or sample loops. Independent input and effect controls can be used to selectively edit specific instruments such as snare drums or hi-hats.

The envelope of polyphonic instrument tracks such as guitars or pianos can be changed just as easily as the dynamics of drum patterns. Three independently adjustable channels allow different effects to be processed at the same time. Each channel can work on its own defined frequency band and parameters – for example, a snare drum on channel 1, the base drum on channel 2 and an instrument (such as piano or guitar) can be edited in polyphony on channel 3.
Changes in AtomicTransient v1.1
New: Added AAX support.
New: Auto-Threshold.
New: Undo/Redo functions.
New: Added options for GFX-performance and hardware-acceleration.
New: Added options for default editor-size.
New: Import/Export parameter per setting category.
New: Added Presets.
New: Channel LEDs can be used to switch channels on/off.
New: Continue render spectral displays if bypassed.
Change: Improved transient-detection.
Change: Improved UI look & feel.
Change: Improved UI performance.
Change: Removed input/output limiting.
AtomicTransient is available for Windows and Mac (VST/VST3/AU/AAX), priced 139 EUR. A free trial version and user manuals are available for download.
More information: MolecularBytes