Plugin Boutique has launched a limited time sale on Syntorial, the synthesizer training software from Audible Genius.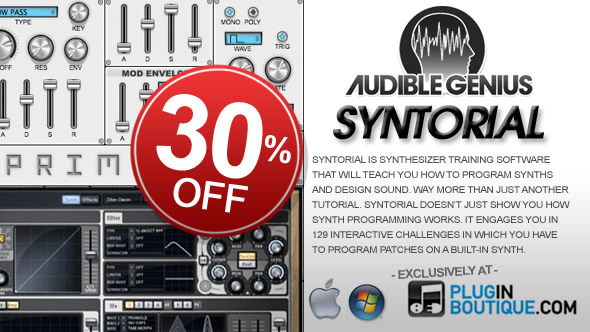 Audible Genius is synthesizer training software that will teach you how to program synths and design sound. Way more than just another tutorial. Audible Genius have just joined forces with Cakewalk and now offer a course on Z3ta+2 built into Syntorial.

So, now learn your techniques on Syntorial and develop them in Z3ta+2 all within one plugin! Buy Audible Genius Plugins here at pluginboutique.com with confidence, read reviews and customer feedback about Audible Genius Software and feel free to download demo trial versions before you buy.
Syntorial for Windows and Mac is available at a 30% discount until July 17th, 2014.
More information: Plugin Boutique / Syntorial