Audified launched a Black Friday Sale, offering attractive discounts on several of its software titles during for one week only.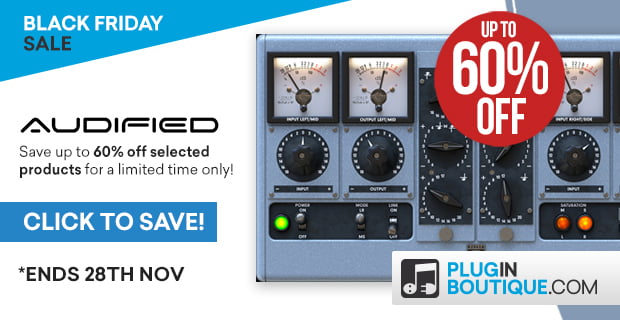 The sale includes the RZ062 Equalizer, a plugin bundle based around authentic namesake models of the now-scarce and sought-after, sixties-vintage Klangfilm RZ062a and RZ062b valve EQ modules made by German giant Siemens for installation in its film sound-centric Universal Mixing and Control Console (Klangfilm System).
The U78 Saturator is also on sale. This saturation effects plugin utilizes meticulous models of the amazing-sounding analog circuitry central to the U73b, the treasured 60s-vintage German broadcast compressor/limiter. The plugin includes tube saturation circuitry with high-pass and lowpass filters and a unique tone filter for some seriously satisfying saturation.
Also on sale at a huge 50% discount is the (already discounted) Studio Bundle, which includes the TNT Voice Executor, U73b Compressor, U78 Saturator, and MixChecker.
A second collection, the Live Guitar and Bass Bundle comes at a 60% discount, offering a special set of applications and plugins that contains everything anyone might possibly need to play and record guitar or bass. The bundle comprises ampLion Pro, GK Amplification 2 Pro, inTone2 and Pedals.
The offers are available from Plugin Boutique until November 28th, 2017.
More information: Plugin Boutique / Audified