Audified has announced the release of RecAll, a multichannel software application for macOS that offers risk-free "Record it all" live event capture as an easily set up and easy to use.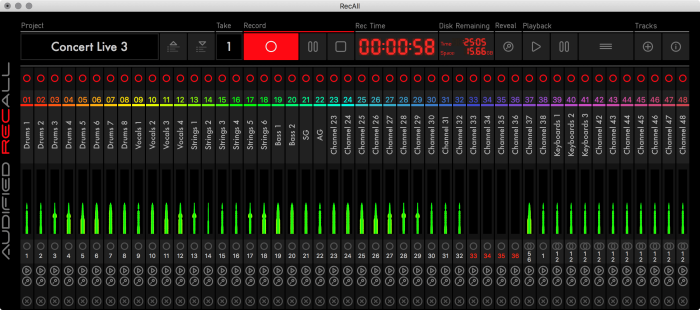 Reality dictates that when working sound reinforcement events there is usually next to no time available for ancillary recording. After all, although most DAWs can be set up to record multichannel events, configuring them to do so is never a straightforward event in itself. Indeed, truth be told, overly-featured DAWs are not really geared up for risk-free, no-nonsense live event recording. RecAll revolutionises that sorry scenario. Simply. Quickly.

Quickly cutting to the chase, how does it do that, then? The RecAll name gives the game away. Record it all. Simply. Quickly. Open the application, select the setup from the template menu, and hit Record. Really, it's that easy!

No need to spend valuable time repeatedly naming inputs and channels on a DAW anymore as RecAll takes care of that. That being said, it also allocates intelligent metering, automatically toggling between the two types available during the recording process. Before recording starts, standard meters show the input level at the time. When recording starts, the meters show the signal history, so no need to check them constantly, which is especially useful if RecAll's main window is hidden. Preview recorded tracks with the click of a button. Export the takes into (almost) any DAW for mixing — all the tracks are automatically structured and titled when dragging and dropping the files from each take. Intelligent multitrack recording… without the trouble.
RecAll features
Easy setup and control.
Maximum 256 stereo and mono tracks.
Instant playback of the recorded tracks.
Stereo mix recorded aside.
Meters showing recorded history.
Comfortable setup of multiple strips simultaneously.
RecAll is available for the intro price of $49 USD for a limited time (regular $99 USD). Requires iLok License Manager 3.1.6 or newer.
More information: Audified RecAll