Audiofier has announced the release of Randomisers Series 1.2, the themed sample library collection for modern producers and composers.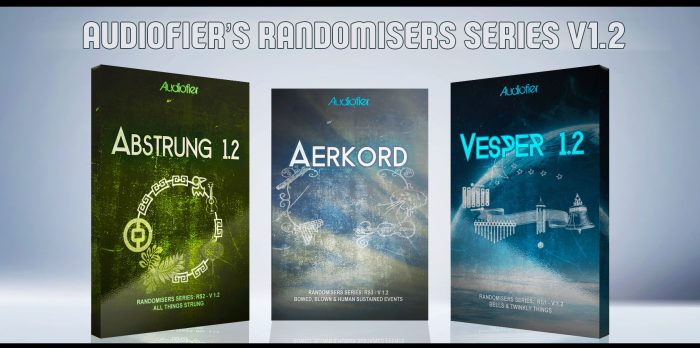 The bundle includes updated Vesper and Abstrung instruments, offering a new GUI and major new features.
New addition Aerkord includes a selection of bowed stringed instruments like the violin, viola, cello, bass, as well as bowed guitars and ethnic instruments, including woodwinds like the Duduk, Kaval, Bamboo flutes, Ocarina and Gralla.
Version 1.2 includes 2 sound sources layers, a Twin Step Sequencer, an Arpeggiator (and yes, they work also simultaneously, in serial or parallel), Step Effects, Trails Layer, a Sequence Midi Drag & Drop function, a Crystal Generator and the trademark intelligent Randomisation function which allows to generate fresh and useful sounds every time with Undo and Redo and Undo history.
A bundle of all three instruments includes 495 + 20 Multisampled Sound Sources, with over 25,000 samples offering a total content of over 46 GB.
Pricing:
Vesper, Abstrung and Aerkord: $59 USD + VAT each.
Randomisers Series 1.2 Bundle: $142 USD + VAT.
More information: Audiofier / Randomisers Series 1.2