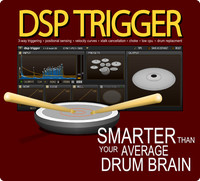 AudioFront has updated DSP Trigger, a drum trigger to MIDI plug-in.
DSP Trigger is a VST drum brain that processes the audio output from drum pads and converts it to MIDI to be passed on to a drum sampler. It allows you to enhance an existing e-drum kit, offering new features and functionality that your drum brain doesn't natively support.
Changes in DSP Trigger v1.3.0.7
Added MIDI Output VU meters.
Fixed the positional indicator in 'note' mode.
Fixed issues related to adjusting controls when the GUI isn't in focus.
If the option menu or preset menu is closed by clicking somewhere off the control, the highlighting is now reset properly.
Fixed an issue where the input VU meter wouldn't always update in mono mode.
Fixed installer bug regarding automatic setup in Sonar X1 x64.
Improved handling of shift modifier when dragging controls.
DSP Trigger for Windows (VST) is available for $39 USD.
More information: AudioFront