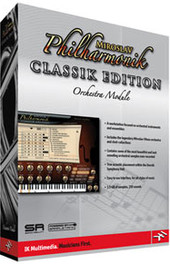 audioMIDI.com has announced a No-Brainer Deal for IK Miroslav Philharmonik CE, an introductory version to the most popular software Orchestral Workstation based on the original Miroslav Orchestra sample collection masterpiece.
audioMIDI.com just keeps bringing the unbelievable No-Brainer Deals!

This time audioMIDI.com and IK Multimedia bring an incredible orchestral virtual instrument bargain with Miroslav Philharmonik Classik Edition Orchestra Module, featuring 250 sounds and 1.5 GB of samples, six-part multitimbral operation and 20 classic DSP effects.
The IK Miroslav Philharmonik CE No-Brainer Deal is available for $15 USD until 31 March, 2011.
Visit audioMIDI for more information.