AudioRaiders has announced the release of Sasha Soundlab, a unique library of samples and software instruments for DJs, dance-music producers, and composers.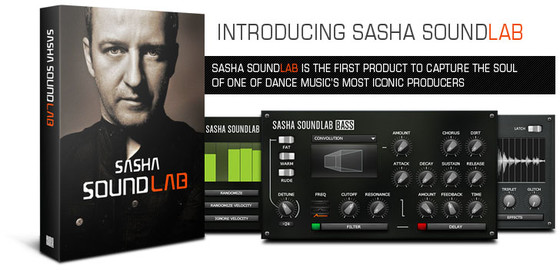 The AudioRaiders team spent weeks listening to sounds in Sasha's studio, and the result is this surprisingly affordable collection, which contains over 4,000 individual sounds. Included are lead, pad and stab synths; synth basses, drum and percussion kits, customizable loops and grooves and custom effects banks. Sasha Soundlab is the first product to capture the soul of one of dance music's most iconic producers.

"It's definitely a treasure trove," says Sasha. "You can produce a record from top to bottom with it. You can make your beats in it—you can do everything from within this Soundlab."

There are an astounding 220 fully customizable software instruments in Sasha Soundlab. The instruments all sampled from vintage analog synthesizers—some quite rare—and custom programmed by Sasha, himself. Included are 20 analog basses, processed through tube gear to give them maximum depth and punch; 26 classic synths; and seven stab and chord banks, featuring over 152 of Sasha's signature sounds.

You also get 69 drum-and-percussion sample banks, comprised of over 950 individual hits. Pre-compressed and production ready, the samples include kicks, hi-hats, toms, percussion and glitches. In addition, over 100 loop instruments are provided, featuring not just drums and percussion, but also rhythmic beds, bass, and heavenly melodic phrases. All of the loop instruments are spread over an octave so they can be easily played in any key.

To top it off, the Soundlab lets you tap into Sasha's prodigious effects collection, with 11 custom FX banks, containing over 400 stunning, boutique effects that utilize guitar pedals, circuit bent toys and a wide range of processors. The sonic possibilities are endless.

Sasha Soundlab is the first product of AudioRaiders' Soundlab Series, with more sound collections, from other influential artists and producers, to come.
Sasha Soundlab (powered by Kontakt Player) is available to purchase for $99 USD.
More information: Sasha Soundlab