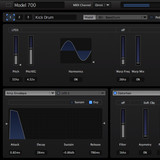 AudioSpillage has released version 1.0.2 of MiniSpillage, a free professional quality drum synthesizer plug-in for Mac.
MiniSpillage is a free professional quality drum synthesizer plugin from AudioSpillage. At the heart of MiniSpillage lies a high resolution DSP audio engine and a custom set of synthesis algorithms designed exclusively for original electronic drum sounds.
Changes in MiniSpillage v1.0.2
Improved envelope resolution/accuracy.
Simple built-in patch load/saving.
Individual pad load/saving.
Drag-and-drop copy and move pad operations (use alt-drag to copy).
Global MIDI channel selection.
Global volume control and metering.
New stereo peak meters.
Improved fine grained editing controls.
Pad triggering via keyboard numeric keys.
Fixed: Distortion input filter menu selecting incorrect type.
Fixed: MIDI key assignments always reverted to defaults until GUI opened.
Fixed: Pad sometimes triggered on mouse button release instead of mouse button down.
Fixed: Possible noise/clicking artifacts with MIDI note-offs and distortions.
MiniSpillage is available as a freeware AU instrument plug-in for Mac OS X 10.4 and higher.
More information: AudioSpillage