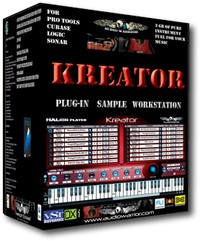 Audiowarrior has announced that its Kreator plug-in sample workstation is available at a limited time discount.
Kreator is a massive, 3GB professional softsynth virtual instrument sound module expertly programmed by musicians for recording engineers, filmmakers, broadcasters, game developers, effects artists, and other media professionals. This music production solution has everything you need to make complete songs for music demos, TV, Film, or any audio-visual project—mellotron, acoustic and electric guitars, acoustic studio-drum kits, electronic drum kits, analog synthesizers, acoustic and electric pianos, organs, acoustic and electric basses, sound effects, soundscapes, World percussion—all from one super, easy-access award winning technology of the HALion Player GUI interface.

Easily produce stunning music demos with its on-board DSP and fine-tune your sounds using AmpModeling, WAH-WAH, Speaker Cabinet Modeling, Flanger, Rotary, Chorus, Reverbs, and TalkBox Vowel Modeling—AA, EE, II, OO, UU—accessible directly from its 8 MIDI-Learn SOUND EDIT Controls.
Kreator for HALion is available as a download for $49 USD (MSRP $379 USD).
More information: Audiowarrior