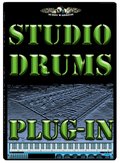 AudioWarrior has released Studio Drums Plugin, a collection of 24-bit stereo precision tuned and expertly programmed drums and percussion in a plugin.
Expensive hardwood acoustic kits, cheap trashy low-fi street kits, electronic kits, and world percussion sounds from Nepal, Africa, India, and Ireland in an affordable 32-bit studio quality state of the art plugin with built in effects, stereo to 5.1 surround output, and 256 voice polyphony.
Studio Drums Plugin features
8 MIDI Learn FX knobs that can be instantly mapped to any keyboard's programmable knobs or faders.
Import/export banks and programs.
Linear or Circular knob controls preferences.
Output to your choice of up to 4 mono, 4 stereo, or 5.1.
Multi FX.
Layer up to 16 sounds simultaneously.
Control up to 16 MIDI channels.
Individual Volumes and Pans per channel.
Expandable for additional instruments and sounds.
256 voice polyphony.
Studio Drums Plugin is available for Windows and Mac (VST/AU/ReWire/Standalone) and costs $49 USD.
Visit AudioWarrior for more information and audio demos.