Autodafe has announced the release of CHPT-1 Chiptune Drums, a drum instrument for Native Instruments Kontakt.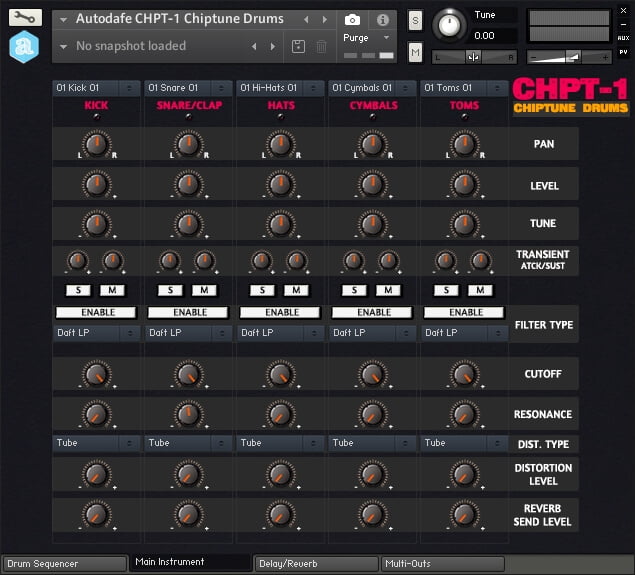 CHPT-1 – Chiptune Drums is a Drum Machine for Kontakt (FULL version of Kontakt 5.6 needed, it will not work on the free Kontakt player) based on samples of old retrocomputers, video games, and circuit bent toy keyboards.
CHPT-1 Chiptune Drums features
5 vertical slots: Kicks, Snare/Rim/Clap, Hats (Closed, Open, Pedal), Cymbal/Cowbell, and Toms (Hi, Mid, Low) for a total of 12 sounds.
Each Slot has different selectable kits of sounds: 32 Kicks, 32, Snares/Rim/Clap combinations, 16 Hats combinations (Closed, Open, Pedal), 8 Cymbals/Cowbells, 8 Toms combinations (Hi, Mid, Low) for lots of different combinations.
Each slot has separate Level, Pan and Tune controls for fine editing and fine-tuning of the samples.
Each slot has two separate controls for Attack and Sustain of the onboard transient shaper.
Each slot has Solo/Mute buttons, to Solo and Mute sounds in the slot.
Each slot has an independent selectable Filter: Filter Type (different LowPass, HighPass), with Cutoff and Resonance controls.
Each slot has an independent Distortion section with selectable Type (Tube or Transistor) and Level control.
Each slot a dedicated Reverb Send Level, which controls the amount of sound that is sent to the Reverb bus channel.
CHPT-1 Chiptune Drums costs 9.99 EUR.
Autodafe has also recently released OSCar for Kontakt, a recreation of the famous OSC (Oxford Synthesizer Company) OSCar for Kontakt, based on samples from an actual OSCar.
The original OSCar comes from Autodafe's collection of analogue synths. 35 Soundsets have been sampled from the original presets in the OSCar memory. There are 91 total patches in the Kontakt Instrument.

The aim is not to 100% replicate the OSCar but to capture its sounds, its controls and its characteristics adding unique features that are only possible in the digital world.

Autodafe OSCar features an advanced Arpeggiator, which was quite simple on the original OSCar
Autodafe OSCar also features a Chord Mode, Glide, Mono Mode and Unison section. The original OSCar had the option to play "Duo" (duophonic) and had glide controls, with different types and times.

The ugly (but lovely), knob-stuffed and cluttered interface of the original OSCar has also been reproduced.
OSCar for Kontakt (full version) is available for 9.99 EUR.
More information: Autodafe