Mozaic Beats has released AutoTheory 4, the latest version of the composition software that takes industry standard MIDI effects and synchronizes them with its sequencer.
Our patented improvements upon traditional Scale, Arp, Chord and Sequencing effects provide users with unlimited possibilities for Chord Progressions, Melodies, Basslines and Arpeggios. Unlike your DAW and Plugins, AutoTheory's midi effects are synchronized via internal Sequencer, meaning that all functions automatically work off of the same Key/Scale/Chord progression. DAW integration is also streamlined with Midi sync and a simple drag n drop export process. The combined creative potential of AutoTheory's features is something that you won't find in any other software

AutoTheory is not a plugin. It functions outside of your DAW. It receives midi from your keyboard (or pad) controller and sends 8 virtual midi controllers into your DAW. Within your DAW, you activate and assign them to instruments exactly as you would with regular midi controllers. AutoTheory's Sequencer also syncs to your DAW.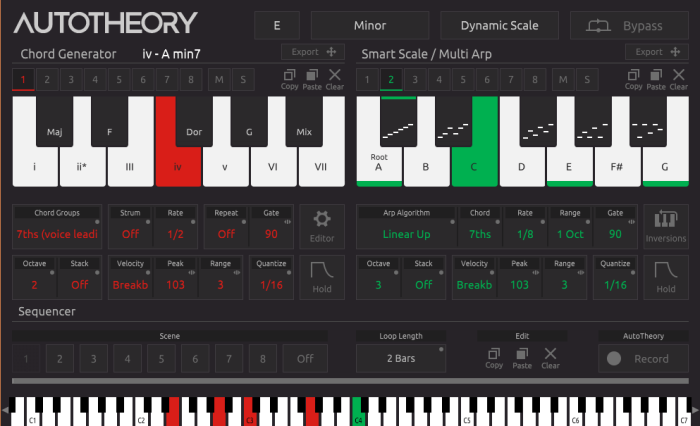 AutoTheory 4 features
Chord Generator: One finger chords from multiple groups with strum, repeat and velocity effects.
Smart Scale: Keep your hand in the same position while the scale transposes to each chord selection.
Multi Arp: Improvise through multiple one finger arpeggios of the current chord.
Chord Editor: Customize tones within each chord for unique voicings, inversions and extended chords.
Device Outputs: Control multiple instruments simultaneously from a single keyboard or qwerty.
Sequencer: Record multiple tracks & scenes before altering key and other parameters post-recording.
AutoTheory for Windows and Mac is available from Plugin Boutique for the intro price of $79 USD (regular $99.99 USD). Registered owners of AutoTheory Pro can upgrade the this new version fro $29.99 USD.
More information: Mozaic Beats