Avid has announced the largest showcase of integrated media production technology the company has ever presented at NAB.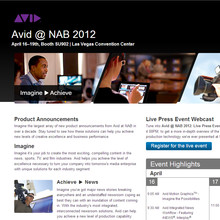 Avid is featuring completely new and upgraded solutions for advanced asset-based workflows spanning distributed production, multi-platform distribution, server and storage, and broadcast graphics, demonstrating how customers in news, sports, TV, and post-production can prepare for the demands of the future.
"We've designed an array of advanced solutions that give our customers the new asset-based workflow capabilities they need to build a more agile and efficient business," said Gary Greenfield, chairman and CEO of Avid. "Media organizations need to be able to reuse their existing media assets more effectively, collaborate easily, and find ways to monetize their content across digital and social distribution channels. With the capabilities we're announcing today at NAB, we're helping our customers solve these challenges by letting them create content wherever they are, manage complex production workflows, and distribute their media everywhere."
Avid's new asset-based workflow solutions at NAB 2012 include:
Distributed production—A new solution, Interplay® Sphere, gives broadcast news professionals the ability to acquire, access, edit and finish stories from anywhere, anytime. Leveraging a cloud-based architecture, applications like Media Composer® and NewsCutter® will give contributors the freedom to work in a completely distributed environment that spans multiple locations and time zones. Underscoring Avid's leadership and commitment to broadcast news, NewsCutter and Media Composer with Interplay Sphere effectively break down the walls of the newsroom by expanding what journalists and news organizations can do, regardless of their location.
Multi-Platform Distribution (MPD)—To address the rising demands of multi-screen consumption, Avid's new MPD solution streamlines and enhances the process for journalists and editors who are creating and distributing content across multiple traditional, digital, and social platforms. MPD removes the complexity of multi-platform distribution by intelligently orchestrating the flow of assets and metadata through creation, transcode, and then delivery to web content management systems, online video platforms, and social media.
Server and storage—Helping media producers address the challenges of ever-increasing production volumes and rising costs— the new Avid ISIS® 2000 near-line storage solution works across multiple Avid Interplay installations to provide search, browse, access, and management, extending production storage; the Avid ISIS 7000 v4.0 effectively doubles its storage capacity with the new i4000 blade; and the next generation AirSpeed® 5000 video server features new codec flexibility with Avid DNxHD® playback included in HD versions.
Avid Motion Graphics™—Gives enterprises the ability to create stunning visual imagery, get it quickly and easily to air, and build strong brand recognition with an advanced real-time 2D/3D rendering engine, accelerated by the latest GPU and I/O technology.
Avid is also showcasing at NAB:
Avid Interplay—

Extended Avid Interplay family of asset management solutions with new releases of:

Interplay Production 2.6—

Production asset management solution featuring greater workflow flexibility and capacity, support for multiple ISIS installations, and new end-to-end ProRes, JPEG 2000, and 3D format support.

Interplay MAM 4—

Modular media asset management technology for automation of archive, ingest, production, and distribution operations and workflows.

Interplay Central 1.2—

Web-based news creation application with improved media access and management capabilities.

NewsVision™ 2.5—

New I/O, graphics, and workflow options, in an economical turnkey foundation for an entire newsroom operation.

Media Composer 6—

Benchmark video editing system with 64-bit power, open I/O support, and sleek new look and feel.

Pro Tools® 10—

Industry-standard platform for audio and music recording with enhanced performance and responsiveness, including HDX hardware support.
More information: Avid