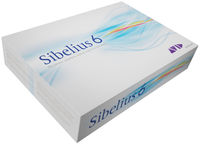 Avid has released Sibelius 6, the music notation software, which includes an innovative toolset designed to provide aspiring and professional musicians with a more efficient approach to music composition.
Designed by musicians, Sibelius 6 offers a number of new features including a unique Magnetic Layout tool that cuts score preparation time in half. Students, educators, academic institutions and composers can also take advantage of Sibelius 6 workflow improvements that facilitate greater collaboration, classroom management, and creative control, through the ability to track progress during review cycles and deliver smooth integration with Digidesign® Pro Tools® systems and other Digital Audio Workstations (DAWs).
New in Sibelius 6
Sibelius 6 for Windows and Mac is now available for $599 USD (educational pricing is $329 USD per copy with additional discounts when purchasing bundled multi-seat licenses). Current Sibelius customers can upgrade for $169 USD ($129 USD for current customers who are educators and students).
Visit the Sibelius website for more information.