Strezov Sampling has announced the release of Balkan Ethnic Orchestra, a Kontakt Player powered instrument library featuring over 40 world class soloists from the Balkans.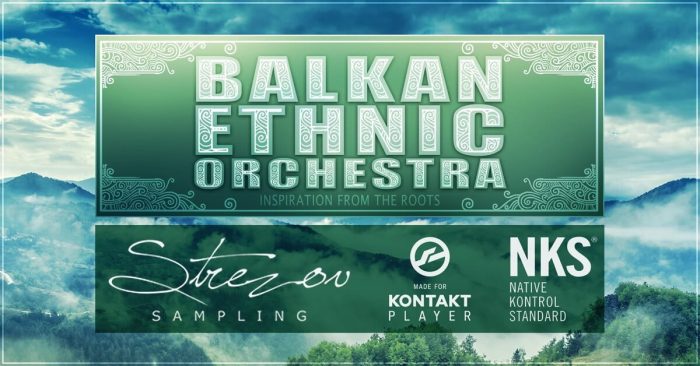 The library brings a complete Ethnic Orchestra at your fingertips, featuring a great deal of never before sampled instruments and inspirational colors.
Balkan Ethnic Orchestra includes everything you need to write authentic Eastern European Balkan music. From expressively playable folklore instruments and the infamous Balkan brass sound to an ethnic vocal quartet and solo percussion. It's all right at your fingertips.

Every instrument inside this collection was developed the Strezov way, with the same attention to detail as in Strezov Sampling's other critically acclaimed virtual instruments, featuring multiple mic positions, different short and long articulations, expressive phrases, true polyphonic legato and various ensemble sizes. Recorded at Sofia Session Studio using high-end recording equipment and the same approach towards liveliness and realism as their Next Generation Choir Series.
Balkan Ethnic Orchestra features
Authentic Ethnic Orchestra from the Balkan region recorded in Sofia Session Studio.
Two microphone positions close and hall recorded through high-end recording equipment + custom convolution reverb.
All performances combined in playable and easy to use patches with special attention towards the natural expression of the soloist.
Over 40 of the finest Ethnic Folklore Soloists from the Balkans (Wind, Bowed and Plucked String and Brass Instruments, Vocal Quartet and Percussion Soloists) with various ornamented short and long articulations including multiple True Legato recordings.
True Polyphonic Legato Ethnic Quartet Choir featuring Agile Legato for 10 syllables in three different speeds, special layer of 'shake' sustain singing for all patches and the Syllabuilder Version 3 from the Next Generation Choir Series.
Full deeply sampled Balkan Brass Band.
Special percussion section featuring Ethnic Percussion Players using the X3M Percussion Engine.
Organic Futuristic and Fantasy Pads created from the recordings of BALKAN.
Powered by Native Instrument's free Kontakt Player and NKS compatible.
Balkan Ethnic Orchestra is available at an introductory price of $329 USD until January 8th, 2018 ($399 USD RRP). Additional crossgrade discounts are available for owners of Tupans X3M and Rhodope 2 Ethnic Bulgarian Choir.
More information: Strezov Sampling / Balkan Ethnic Orchestra