BandLab has announced the launch of BandLab Sounds, the latest addition to its expansive creator-empowering toolkit.
The Sounds service provides limitless access to an extensive royalty-free sample library with 10,000+ sounds to choose from, all for free.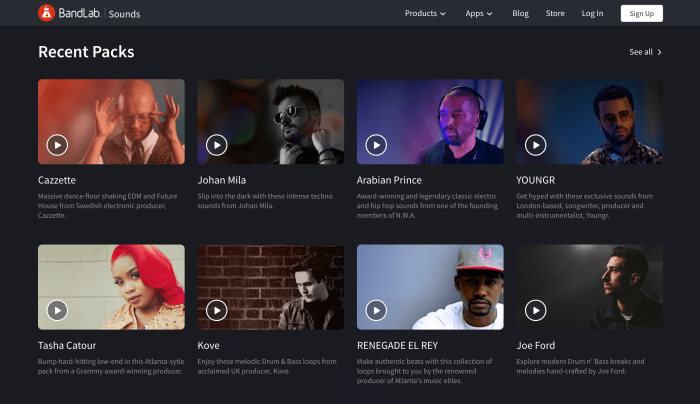 Each pack is crafted by artists and professional sound designers, with featured packs by Arabian Prince, Tasha Catour, Youngr, Joe Ford, Martin Badder and Kove. The BandLab Sounds library will include packs, loops and one-shots, with new sounds added weekly.
All samples are uncompressed (.wav) and royalty-free. They can be downloaded via web or mobile and are compatible with all major DAWs.
Sticking to their core mission of tearing down the barriers to creativity, BandLab is helping millions of artists discover and expand their sound by making this service free and accessible to anyone. The Digital Audio Workstation x social media platform already has over 25 million registered users, who are currently making 10 million new tracks per month.
John Ivers, Product Manager for BandLab Sounds says:
"We understand that a producer's sound library is their instrument — and we want to give them the best instrument possible. Our samples are fantastic quality, royalty-free, usable in all audio software and distribution ready. They are all tagged by mood, genre, instrument, BPM and key to make discovery a stress-free part of your creative journey."
Samples and packs are tagged by mood, genre, instrument, BPM and key to make discovery a stress-free part of your creative journey.
BandLab Sounds joins a suite of existing tools from BandLab, which include Albums, a new publishing tool which enables artists to monetize their music releases and keep 100% of the profits; Creator Connect, the community building discovery and messaging feature that helps musicians find collaborators, and Forking, a tool which allows a track to be openly edited by other music makers for frictionless collaboration and constant inspiration.
BandLab also offers its user-friendly and free Digital Audio Workstation, which works entirely via the cloud, making BandLab the most accessible DAW on the market.
Join BandLab to begin using the vast library of Sounds available and stay tuned for new loops and packs added weekly.
More information: BandLab