Bayou Media has announced that its Drum Gator plug-in, a unique noise gate designed specifically for drums and percussion, is now available for Mac OSX in AU, VST, VST3, and AAX formats as well as AAX for Windows. Drum Gator was previously available only on Windows platforms in VST format.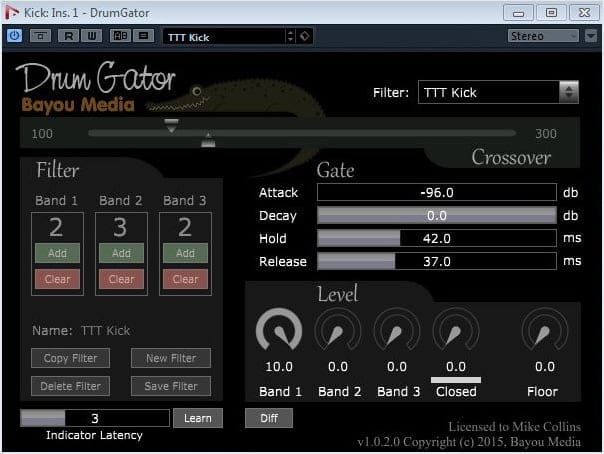 Drum Gator does not suffer from the issues experienced with traditional noise gates. It uses a transient detection algorithm combined with spectral analysis to remove only the unwanted drum hits while preserving other program material. It can also do things that are not possible with any other noise gate, opening up creative possibilities that were previously unavailable.

Drum Gator is triggered by a transient detection algorithm which monitors the rate of increase in the initial onset of the drum hit. It can very accurately detect the initial transient of a drum hit resulting in a much more natural sound as the gate opens. Unlike traditional, level-based noise gates, Drum Gator will not chop off the initial transient of a drum hit no matter how the thresholds are set.

Drum Gator treats each drum hit as a separate entity and assigns it to one of three "bands" based on its spectral (frequency) content. Each band has its own level control. Drum hits matching a particular spectral signature can be eliminated by simply reducing the associated level control to zero.

Removing snare drum "bleed" from a kick drum track (for example) is easier and more accurate because Drum Gator doesn't depend on the assumption that the "bleed" signal will exist at a lower level than the desired signal. If the signal bleeding through matches the spectral content of the unwanted signal, it can be gated out regardless of its level. This approach is superior to the side chain tuning used by conventional gates and virtually eliminates false triggers.

Additional level controls are available for "Closed" and "Floor" allowing for creative applications such as transient shaping.

There's an almost infinite variety of drum and percussion sounds out there, and each instrument has unique spectral characteristics. You can easily train Drum Gator to recognize and process the unique spectral characteristics of your program material, so you are not limited to Drum Gator's built-in spectral filters.
Drum Gator is available for an introductory price of $50 USD.
More information: Bayou Media / Drum Gator