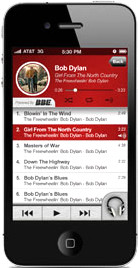 BBE Sound has released SonicMax Pro, an app that turns your iPhone, iTouch or iPad into an HD-quality music player.
Hear all the sound you never heard. Hear every instrument, every vocal, every chord, every twang, crunch, tap, pluck and sigh with greater clarity and dynamic presence. BBE's patented technology restores the natural warmth, clarity and definition that have been missing from your digital listening experience. Rediscover the thrill of deeper richer lows, superior clarity and definition, increased upper harmonic detail and better overall audio performance regardless of the quality of your earphones, dock, or speakers.
SonicMax Pro features
Select between four listening presets: earbuds/earphones, headphones, dock, external speakers.
All presets can be fine-tuned to suit your personal taste.
3 additional custom presets to create your own one-of-a-kind listening device presets.
Settings include: Lo Contour, BBE Process, iSet, Sound Field, Mach3 Bass, Mach3 Gain.
Full music player functionality — Play, Pause, Skip, Repeat, Shuffle.
Automatically uploads playlists from your iTunes library or you can build your own.
Displays artist, title, artwork, time.
Supports MP3, MP4 and WAV files. SonicMax Pro will not play older DRM encoded audio files, but iTunes Plus files are supported.
Recommended for iPhone 3GS, iPhone 4, iPhone 4s, iPod Touch Third and Fourth Generation.
Not for iPhone 3G, Second Generation iPod Touches or older.
iOS5 recommended. iOS4.1+ compatible but some features disabled.
SonicMax Pro is available to purchase for $4.99 USD.
More information: BBE Sound / SonicMax Pro