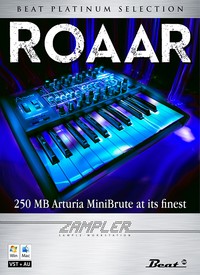 Beat magazine has announced it is offering Roaar, a collection of 250 MB free sounds of the MiniBrute analog synthesizer by Arturia.
Kein Geringerer als Arturias MiniBrute diente als Klangquelle für eine ganz außergewöhnliche Sound-Sammlung. Satte 250 MB Multi-Samples hat unser Sound-Guru Marco Scherer in zwölf erlesenen Patches für den "Zampler" aufbereitet und dabei die analoge Kiste bis zum Äußersten getrieben.

Das Ergebnis ist eine Sound-Bibliothek, die nicht nur die Klanggewalt des MiniBrute beeindruckend herausarbeitet, sondern sich auch in vielen elektronischen Stilen einsetzen lässt.
Roaar includes 12 presets by Marco Scherer and is available as an open SFZ format for use in the Zampler player. The sample pack is available to Beat Facebook fans.
More information: Beat magazine